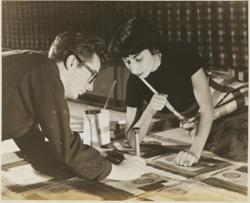 New York, NY (PRWEB) October 02, 2012
The first retrospective of husband-and-wife textile designers Leslie Tillett and D.D. Tillett explores the bold geometric patterns, exquisite textures, and vibrant colors of their designs. While lesser known than contemporaries like Florence Knoll, George Nelson and Charles and Ray Eames, their place in the post-war design scene was influential and distinctive. Sought after by style icons like Jacqueline Kennedy and Brooke Astor, the Tilletts advanced a "mid-century modern" aesthetic that was both exotic and classic. From Europe to Africa, from contemporary art to the traditional handcrafts of Japan and Mexico, their unexpected combinations of color and texture distinguished the Tilletts as trailblazers and trendsetters.
Incredibly, their work largely fell from public view, especially following their deaths in 1992 and 2008. "The World of D.D. and Leslie Tillett," rediscovers the Tilletts as extraordinary designers and recalls their artistic and social visions in the field of textile design. The exhibition, on view from October 17th through January 6th, showcases their fabrics, clothing, jewelry, sketches, as well as vintage photographs. Newly produced handcrafted fabrics made by the Tilletts' son and daughter-in-law in their NYC design firm Tillett & Rauscher and by their other daughter-in-law at Tillett Textiles of Sheffield, Massachusetts are incorporated throughout the instillation to provide a dynamic backdrop.
The Tilletts lived and worked on the Upper East Side, and opened their own studio at 170 E. 80th Street in 1946, where they created fabrics and fashions commissioned by society figures and leading Manhattan decorators for more than four decades. The notoriety of Tillett textiles among their high-end clientele lifted the Tilletts to the top of their field, making them an important but untold part of the story of the creation of midcentury modernism.
In addition to producing luxury textiles, the Tilletts were recruited by Jackie Kennedy, then a young widow, to help launch Design Works of Bedford Stuyvesant. In their workshop, the Tilletts trained the entire staff; Design Works provided employment to a dozen members of the community. Offering expertise and leadership, as well as a collaborative design environment, they shared their signature techniques of silkscreen printing and mixing of dyes.
Design Works was a pilot community development project, authorized by legislation introduced by Senator Robert Kennedy, Jr.; it opened in 1969 and closed in 1978. During its existence, Design Works established a national reputation for its striking patterns and colors, inspired by African art. The Tilletts replicated this workshop model in Nantucket with The Looms and The Needlery, and the designs were sold through a retail outlet called The Cloth Company of Nantucket. For these manufacturing businesses the Tilletts utilized the local aesthetic and skills of the community.
The Tilletts used design as a tool for social change through their activism, writing, and teaching.
They consulted with the foreign governments of Korea, China, Peru, and Lesotho to develop export handcrafts. The innovative style of their fabrics and garments were very much a result of global influences. Leslie Tillett also authored several books of needlework in the 1970s, examining patterns and designs inspired by both American and African motifs, as well as books about the history of Native Americans and the Spanish conquest of the Aztecs.
Susan Henshaw Jones, Ronay Menschel Director of the Museum of the City of New York said, "The designs of D.D. and Leslie Tillett are bold, imaginative, and distinctive and we are enormously excited to celebrate these leading textile designers who lived, worked, and created in New York City. The first retrospective of their life and work, the exhibition will present a dazzling array of fabrics, fashions, and related drawings to illustrate the Tilletts' aesthetic of vibrant color and dynamic pattern. From their home and studio on Manhattan's Upper East Side they infused inspirations from their travels and their innate sense of style into each fabric. We hope to introduce the work of these remarkable designers to a new generation."
Fashion and Signature Style:
Organized to highlight their visionary style and fashions, the exhibition will look at the Tilletts' men's clothing line that inventively fused representational motifs from nature and industry, with rich patterns and surprising color combinations; D.D. Tillett's own inventive wardrobe with her personal clothing and jewelry; and the couple's commissioned designs for high profile clientele through photographs, garments and fabrics.
The Tilletts produced luxurious custom-made designs that were purchased by fashion icons such as Babe Paley, Jacqueline Kennedy, and Brooke Astor, Manhattan decorators Sister Parish and Albert Hadley, and companies like Owens-Corning, the manufacturer of fiberglass fabric. In 1960, Jacqueline Kennedy hired Sister Parish to redecorate the family quarters at the White House. The White House decoration project inaugurated the Tilletts' professional and personal relationship with Jackie, who became a regular client and eventually a friend. They went on to design several prints and fabrics, notably the crisp and colorful chrysanthemum pattern for her summer home in Hyannis Port. Featured in the exhibition is a tablecloth designed and made by D.D. Tillett for Caroline Kennedy's wedding reception in 1986.
Timeline and Unique Visions:
Through a visual timeline, the exhibition chronicles the Tilletts' first meeting in Mexico in the 1940s to key moments in their personal lives and career. Leslie was working with his brother, James, producing textiles when he met D.D., at the time Doris Doctorow, who was working in New York for Harper's Bazaar. After marrying, the attractive couple moved to New York City, eventually working out of a former carriage house at 170 East 80 Street. They converted the space into an all-purpose environment, with a retail shop on the ground floor, a workshop above, and two top floors of living quarters for their family. Their home and studio is featured prominently in the exhibition through intimate photographs by Samuel H. Gottscho.
There they designed textiles for fabric mills, sold to dress manufacturers, created fabrics for upholstery and drapery, and most notably collaborated with leading interior designers and their clients on custom commissions. The Tilletts also produced their own line of clothing and accessories, with many garments on display for the first time, including hand-painted men's ties created in Mexico in 1943-44. In New York, they went on to develop the ingenious design idea of printed and hand-painted men's ties sold by subscription. The wildly innovative plan to create limited edition ties, released monthly, received considerable press at the time.
The exhibition also reveals their individual aesthetics and uncovers their personal interests through D.D. Tillett's collection of hand-drawn sketches and Leslie Tillett's nature-inspired designs. Establishing their unique passions and backgrounds, the exhibition offers a comprehensive and absorbing portrait of the dynamic designers.
About Leslie Tillett:
Born in London, England in 1915, Leslie Tillett came to the United States with his parents and brother in 1921, settling in Brooklyn. From his father, George Tillett, whose family had worked in the textile industry for generations, Leslie learned about textile dying, finishing processes, and printing techniques. In the course of becoming an expert textile colorist, Leslie traveled in Canada, England and Europe, before arriving in Mexico in 1940 to establish a fabric-printing workshop with his brother James. From 1980 on, after nearly 40 years in the textile business in New York, Leslie devoted his time to painting.
Like many designers, Leslie Tillett drew on imagery from the world of nature—inspired by the forms and textures of plants, animals, and sea life, based not only on his own observations, but also borrowing from graphic representations in historic and cultural sources throughout the world. These sources provided graphic imagery for his printed textile designs, needlework patterns, book illustrations, and carved objects. As an advisor to community arts organizations—such as the Design Works of Bedford Stuyvesant and the Institute of American Indian Arts in Santa Fe—he always encouraged artists and crafts workers to allow their artistic creations to emerge from studying their own environment and cultural history.
About D.D. Tillett:
D.D., born Doris Doctorow in 1917, was the daughter of Russian immigrants, who settled in Brooklyn. She adopted the name D.D. after her marriage to Leslie in the mid-1940s. As a young woman, D.D. was drawn to the world of art and fashion, studying at the Art Students League in New York City, and at the American Art School in Fontainebleau, France. At the League she took fashion-sketching classes and studied life drawing with noted artists George Grosz and Vaclav Vyatcil, a founding member of the American Abstract Artists group.
Just prior to meeting Leslie Tillett in Mexico, around 1944, D.D. had been working at Harper's Bazaar, under the tutelage of its legendary art director Alexei Brodovitch. It was Brodovitch who encouraged her to visit the Tillett fabric workshop in Mexico—a trip that changed her life. Although she became a successful textile designer and businesswoman, she viewed herself first and foremost as an artist, creating drawings, watercolors, and paintings, designing clothing and jewelry, and experimenting with photography. Some of her drawings and watercolors of flowers became the basis for floral textiles produced in the Tilletts' workshop.
"The World of D.D. and Leslie Tillett" is organized by Donald Albrecht, Curator of Architecture and Design; Phyllis Magidson, Curator of Costumes and Textiles; and Phyllis Ross, a design historian. The exhibition will run through January 6, 2013.
ABOUT THE MUSEUM OF THE CITY OF NEW YORK
Founded in 1923 as a private, nonprofit corporation, the Museum of the City of New York celebrates and interprets the city, educating the public about its distinctive character, especially its heritage of diversity, opportunity, and perpetual transformation. The Museum connects the past, present, and future of New York City, and serves the people of the city as well as visitors from around the world through exhibitions, school and public programs, publications, and collections.