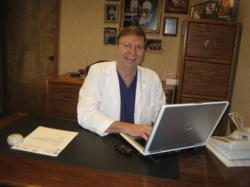 Houma, LA (PRWEB) October 04, 2012
Murray L. Rabalais, P.D., D.D.S., of Progressive Periodontics is a periodontist that works hard to fight gum disease. Millions of Americans suffer from this dental problem each year, and one of the most noticeable problems connected with this disease is receding gums. In fact, many people who have gum disease do not notice symptoms while others may have bleeding and red gums, root sensitivity, cavities and exposure of the roots. Other concerns with gums are the esthetics of over-exposed or under-exposed teeth or an uneven gum line.
When gum recession occurs, it is very important that the receding gums are repaired. When teeth are exposed because of the lack of gum tissue, bacteria is more likely to cause gum disease as well as deterioration, bone deterioration and tooth loss.
Gum grafts are procedures where gum tissue is taken from another area in the mouth and grafted onto the receding gums. This increases the coverage on exposed teeth or can raise the entire gum line, depending on the needs of the patient. The crown lengthening procedures are used when excess gum needs to be removed in order to expose the tooth, either so that other dental procedures can be performed or to improve on a "gummy" smile.
Periodontal plastic surgery is performed by a periodontist with training on these procedures. Dr. Rabalais works with individual patients to determine whether any of these procedures are necessary to improve the esthetics of the smile or to better protect teeth. Not everyone is a candidate for these procedures, but those with receding gums should be aware of the dangers of not being treated. More information about gum disease and treatments is located at http://www.louisiana-periodontist.com.
Progressive Periodontics is a periodontal practice offering patients personalized dental care for Houma/Thibodaux area and New Iberia, Louisiana since 1980. Dr. Murray L. Rabalais graduated from Northeast Louisiana State College with a Bachelor of Science degree in Pharmacy. He received his Doctor of Dental Surgery degree from Loyola University in 1970. After serving in the United States Army he entered the LSU School of Dentistry for post-graduate studies in Periodontics and received his Certificate in Periodontics in 1980. Dr. Rabalais is part of one percent of dental professionals providing the most recent FDA cleared laser procedure for gum disease and periodontal treatment. To learn more about Progressive Periodontics and their dental services visit their website at http://www.louisiana-periodontist.com or call either office:
Houma: 985-231-5333
New Iberia: 337-376-0767