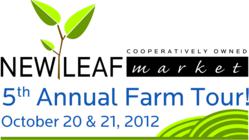 Tallahassee, FL (PRWEB) October 02, 2012
New Leaf Market, the largest natural foods cooperative in North Florida, recently announced an upcoming North Florida and South Georgia farm tour on October 20th and 21st, 2012. The annual tour gives farm visitors an opportunity to learn about local food production, where the food comes from and about the farmers who produce it.
This year, thirty-one farms are opening their doors and inviting visitors to come see local farms in action. Each farm is offering something special for no charge. Families can enjoy tours that include barnyard animals, fresh-baked goods and refreshments. They can attend a workshop on beekeeping, see community gardening in action or talk to farmers who are committed to organic production.
"Eating is one of the most important things we do every day," said Larrane Hartridge, general manager of New Leaf Market. "It has lifelong implications for our health, our children's health and the health of the planet. Getting to know the people who grow your food is a powerful way to reconnect with food and your community. When you support your local farms, you get the freshest food, build local economy while protecting our precious environmental resources, and keep farms as part of our landscape."
Participating farms include Blue Ridge Farm in Quincy, Fla., Backyard Farm in Monticello, Fla., which will present a workshop about simple gardening and natural pest control, Bradley Farm, Holly Hill Farm and numerous others. In addition to farms, visitors can tour working cattle and goat ranches, a dairy or a winery and purchase fresh goods directly from each grower. For complete information about the 5th annual farm tour and in-store events at New Leaf Market, visit the store's website, http://www.newleafmarket.coop.
About the company:
New Leaf Market, founded in 1974, is located at 1235 Apalachee Parkway in Tallahassee, Florida. They offer wholesome locally grown and produced organic foods including produce, grocery, frozen, refrigerated and health and body care products. The beer and wine department now includes 16 feet of chilled microbrews and over 300 types of organic wines. The deli menu has been expanded and includes Panini sandwiches, rotisserie chickens, smoothies, expresso and breakfast, lunch and dinner items. A fresh meat and seafood department offers all-natural meat and fresh from Florida seafood. New Leaf Market educates the community about the products they sell. They consider it their contribution to a healthier future generation. Visit their website at http://www.newleafmarket.coop.