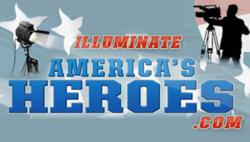 McLean, VA (PRWEB) October 02, 2012
David C. Jamison, Executive Director and Founding Member of the Foundation to Illuminate America's Heroes (http://www.illuminateamericasheroes.com) announce the formation of a new Hollywood Advisory Board to complement and expand the current International Advisory Board of the Foundation. "The role of this new Hollywood Advisory Board will be to help the Foundation to discover and then appropriately illuminate the hero stores we select," Jamison stated. "The hero stories the Foundation will discover will truly inspire present and future generations of citizens." "We are asking Agents and Publicists to consider the great patriotic mission and cause of the Foundation and to recommend it to the talent they represent."
"The Foundation would like to reach the following Polish American celebrities: Yola Czaderska-Hayek, Janush Kaminski, Rita Cosby, Jane Seymour, Stephanie Powers, Stacy Keach, and Pat Sajak," Jamison said. "We are asking them or their agents to contact the Foundation regarding their possible interests to adopt this great patriotic mission and cause and to join the Hollywood Advisory Board." "We also know that there are many other celebrities with strong Polish backgrounds who may be interested in this great patriotic mission of the Foundation and we would like to be in contact with their agents as well."
The Foundation has selected King Kong Creator, Merian C. Cooper, as the "Greatest American Hero of the Twentieth Century" and has created an International Advisory Board to help promote his inspiring story into a full feature Hollywood film.
"Merian Caldwell Cooper is a singularly unique individual whose amazing and heroic life story simply must be told to inspire a whole new generation," said Jamison, "Long before coming to Hollywood and producing many motion pictures, most notably the original "King Kong" movie, Merian Cooper, following a distinguished career in the Air Corp during World War I, voluntarily and heroically risked his life to repay America's debt to the two Polish officers, Tadeusz Kosciuszko and Kazimierz Pulaski , who voluntarily came to America's aid in our War for Independence. Merian Cooper, in the 20th Century, voluntarily created and formed the Kosciuszko Squadron of American and Polish pilots who fought for Poland in the Polish-Bolshevik War of 1919-1921. Cooper and his fellow pilots risked their lives for freedom, just as Pulaski and Kosciuszko had done earlier. Three of the American fighter pilots gave their lives and Cooper's plane was shot down and he spent months in a Soviet prisoner of war camp. The Americans helped the Poles smash the Bolsheviks at the gates of Warsaw in what is known as "The Miracle on the Vistula River." Cooper and the other Americans received Poland's highest military honor, the "Militari Virtuti," which is equivalent to our American "Congressional Medal of Honor." Twenty years later, during World War II, Cooper, then at the height of his great Hollywood career as a Producer, re-enlisted in the U.S. Air Force and became America's oldest active duty fighter pilot, flying with the "Flying Tigers" in China, under the command of famed General Chennault." ("The Greatest Story Not Yet Told" -youtube.com)
The Foundation is also planning a worldwide petition campaign asking people to add their names to a petition requesting the Academy of Motion Picture Arts and Sciences to award a "Special Heroes Oscar" to Merian C. Cooper for his incredibly heroic and inspirational true life story.
The International Advisory Board of the Foundation was formed to support the Merian C. Cooper and legendary Kosciuszko Squadron story into a full feature film. Its members include prominent American and Polish citizens who share a passion for the Cooper/Kosciuszko story and want to see it shared with the world. A full listing of the IAB members is on the Foundation's website (http://www.illuminateamericasheroes.com) under the heading "About Us".
"On behalf of the Foundation, I am personally appealing to Principals, Agents and Publicists in the Polish American Hollywood community to contact me directly with questions about this new "Hollywood Advisory Board" and the great patriotic cause of finding and illuminating the lives of true American heroes," said Jamison. I can be reached at 334-718-9501 or by email through the Foundation at davidj(at)illuminateamericanheroes(dot)com.
Contact information:
David C. Jamison, Executive Director
The Foundation to Illuminate America's Heroes, Inc.
http://www.illuminateamericasheroes.com
davidj(at)illuminateamericasheroes(dot)com
334-718-9501