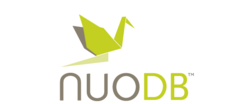 With every Beta release, NuoDB is proving that it can deliver a scalable, elastic and ACID compliant database solution I can seriously recommend to clients. Ian Mariano, Software Architect, NorthPoint Solutions
Cambridge, MA (PRWEB) October 02, 2012
NuoDB, Inc., the leader in elastically scalable, emergent database software for the cloud, today announced results of their beta test. Beta participants included web application developers, database administrators and application architects at companies ranging from the Global 1000 to small IT consultancies.
From the start of the beta program through September, 2012 nearly 2,000 participants have downloaded the NuoDB solution. Documenting an explosion of interest, unique beta downloaders doubled in September 2012 alone.
The company also announced its final beta, Beta 9, in a companion press release entitled: NuoDB Announces Final Beta Release of Emergent Database: Beta 9 Adds Major New Functionality Including Support for Zend Framework and Hadoop.
The official beta program is slated for completion in late October. A generally available release of the solution will be delivered later in the fourth quarter of 2012.
Key Beta Results Highlight Database Crisis
"One key discovery within our beta results was the significant number of customers contemplating a migration of their SQL databases to a more cloud-ready platform," stated Barry Morris, CEO and Co-founder of NuoDB.
"A full 40% of beta downloads were used for testing the NuoDB solution with an existing application being migrated to the cloud," added Morris. "We had expected only a small percentage of customers would migrate so this was a positive surprise that expanded our target market. One result we had fully anticipated, and which was validated during the beta test, was that the majority of beta customers would be creating a new web-scale application for either SaaS or mobile environments."
"Most importantly, all beta customers spoke consistently of a compelling need for an innovative, all new relational database that is easier to scale in the cloud, still supports SQL, and requires near zero administration," concluded Morris.
NuoDB beta customers are currently using MySQL, Oracle and SQL Server, in that order of frequency. The types of applications beta customers are testing include:

OLTP: 54%
Analytics: 38%
Data logging: 8%.
Noteworthy NuoDB Beta Customer Quotes
"With NuoDB we can, at last, solve the problem of having multiple instances of the same data in two different regions on our AWS servers, without have to worry about replication configuration and concurrent updates. Everything is 'synched in a snap.' We are very happy with NuoDB Beta 8, and looking forward to working with the final version of the database." Joao Paulo Antunes, CIO, Embritive.
"With NuoDB I'm already in the cloud, with little or no effort - a cloud that manages to be backwards-compatible." Eduard Suica, RADGs Software.
"I've recently started testing the Beta version of NuoDB, and I'm very excited about its potential." Tim Besser, Senior Software Architect, Dassault Systemes.
"With every Beta release, NuoDB is proving that it can deliver a scalable, elastic and ACID compliant database solution I can seriously recommend to clients." Ian Mariano, Software Architect, NorthPoint Solutions.
"We are looking for a solution that will give us legacy code support in addition to support for explosive growth. NuoDB is the only solution that gives us both." Stephen Jazdzewski, Principal Architect, TabbedOut.
About NuoDB
NuoDB, Inc., is a Cambridge, MA based startup that provides the industry's first and only patented elastically scalable, emergent database. Unlike every other database, NuoDB is architected to scale effortlessly in the cloud without compromising any of the features or guarantees of relational databases.
NuoDB is the brainchild of industry-renowned database architect and innovator Jim Starkey. NuoDB was launched in 2010 by Starkey and software CEO Barry Morris. The NuoDB database is currently in its final beta version and will become generally available in late 2012. For more information, visit us at http://www.nuodb.com. Twitter: @nuodb