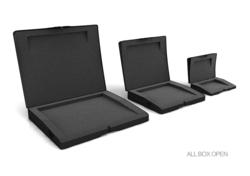 Exton, PA (PRWEB) October 02, 2012
For the consumer, 'returns'means taking or sending their purchases back to the store and that's the end of it. For the retailer or manufacturer, it's just the beginning of a costly shipping cycle. Today, Ecospan announces a way to deliver many happy returns for retailers and manufacturers this season with reusable and sustainable containers that save companies money and remain in the shipping cycle and out of landfills. Ecospan, the only global developer and producer of 100% biobased plastic durable goods, is introducing the first 'off-the-shelf' bioplastic shipping enclosure solution for high-value goods for retailers and manufacturers to incorporate into their reverse logistics operation in time for the holiday gift 'returns' season.
After seeing the tremendous success of its more than 12-million 'custom-made' bioplastic product shipping cases placed in circulation over the past year, Ecospan has launched a line of pre-sized, 'ready to use' and highly durable protective cases used to replace petroleum-based plastics in the reverse logistics process with sustainable bioplastic alternatives.
"Ecospan's BioFlow™ shipping cases for high-value consumer purchases provide the antidote to the annual post-holiday hangover of expensive returns costs that put a big dent in company revenue numbers. We have introduced our new pre-sized cases because we have realized savings of more than $21 million annually for a global smart phone client in their reverse logistics shipping enclosures. If we could do it for them, then we figured there were many other retailers and manufacturers that could stand to benefit as well," said Ecospan President Jeff White.
Studies show that 4%- 6% of all retail purchases are returned each year, costing s the industry about $40 billion annually in lost revenues. Retailers and manufacturers of consumer electronic are hit the hardest—generating losses of $17 billion in product returns. (Interestingly, when tested by the retailer or equipment manufacturer, only 5-percent of the products returned had a technical fault, according to Accenture research.) The costs involved with product returns total nearly 3 % of revenue for the average retailer, and nearly 6% for the average consumer electronics equipment manufacturer.
Ecospan's BioFlow™ enclosure cases are tough enough for multiple uses - up to 15-20 transport cycles—which is more than other material alternatives to petroleum-based plastics, like cardboard or paper-- and reduce product damage, driving down costs and increasing profitability. The BioFlow™ cases make a sustainable closed loop possible because at the end of life stage, they are reground and repurposed into new products and put back into the system, reducing waste in landfills and carbon emissions.
"We have brought bioplastics applications to the point where sustainable applications in reverse logistics are now for the first time both possible and profitable. Our pre-sized, off-the-shelf shipping containers make it easy for businesses to make the switch on a large-scale and recognize significant ROI on a product returns process that was once a costly burden," says Ecospan President Jeff White.
The cases are designed to carry expensive and valuable items such as handheld devices, mobile phones, GPS consoles, cameras and other high-value consumer products that are shipped back and forth between retailers and manufactures as returns or for repair in a closed-loop shipping scenario wherein the containers remain in the supply chain. The BioFlow™ cases are also ideal for B2B shipping applications between vendors such as dentists (molds to labs and back), optometrists (glasses) or jewelers (watch repair).
The BioFlow cases are available in three sizes ranging from 3.1"L x 1.5" W x 0.75"H to 6.1"L x 3.75"W x1.26"H to the larger cases measuring 12.5"L x 10.3"W x 2.7"H. The standard configuration includes a living hinge, latching engagement and security system. Utility black is the standard color, and several coloring and decorating options are available. Both standard and unique design protective insert foam are available. All BioFlow transport cases are 100% petroleum-free and 94% USDA Bio-Preferred certified.
The 'ready to use' cases are made from Ecospan's proprietary BioFlow ™ plant-based material. BioFlow ™ is moisture resistant, it doesn't break, its not brittle, it can be molded, and it its market-grade, meaning the material is competitive to regular plastic.
About Ecospan, LLC
Ecospan, LLC is a materials science design, development and manufacturing company producing durable goods made from bio-based plastics. The company works with industry around the world to deliver sustainable bioplastics solutions across the supply chain, from production to closed loop reuse and recycling programs. Ecospan's biopolymer blends are the basis for their proprietary BioFlow™ brand of 100% petroleum-free bioplastics materials. BioFlow™ has been certified as 94% bio-based by the United States Department of Agriculture (USDA) as part of its BioPreferred program.
Founded in 2005, the company is headquartered in Greenbrae, CA with U.S. operations in Exton, PA and Phoenix, Arizona and global R&D and manufacturing locations. More on the company can be found at http://www.ecospan.com