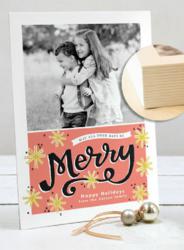 Minted's chic community-sourced designs coupled with unbelievably thick paper make these the most exquisite holiday cards available anywhere." -Mariam Naficy, CEO
San Francisco, CA (PRWEB) October 03, 2012
Minted (http://www.minted.com), the global design community and e-commerce site, today announced the first-ever line of TripleThick luxury holiday cards, printed on exclusive paper three times as thick as the company's already luxurious signature paper. Previously reserved for specialty orders at traditional printers, Minted's TripleThick paper resembles museum board and is the first of its kind available anywhere for holiday photo cards.
TripleThick paper stands at the intersection of design and technology: it has the lush dappled texture of high cotton content paper, and is meticulously crafted by fusing three layers of paper together.
"Finally, design and photography aficionados can have photo cards printed on paper that is as thick as museum board,"said Minted CEO & Founder Mariam Naficy. "Minted's chic community-sourced designs coupled with unbelievably thick paper make these the most exquisite holiday cards available anywhere."
Consumers can opt to print on the back of the card — something never seen before on such thick paper. They can choose from several colorful solid and patterned backers. The backers coordinate with Minted's envelope liners and address labels.
Minted's entire holiday card collection is now available on TripleThick paper. Minted's TripleThick paper is 360 lb. and is priced at $3.00 per card.
About Minted:
Minted is a venture-backed design community and e-commerce site, crowd-sourcing graphic designs and content from a global design community and selling those as premium printed products focused on the $10 billion stationery market and the $48 billion wall art market. Benchmark Capital, Menlo Ventures, and IDG Ventures SF are investors in Minted.
All the designs featured on Minted are sourced through design competitions and curated by the community. The company holds ongoing competitions, giving designers and artists the opportunity to submit their work. Those voted to the top are sold on the site. Designers earn cash prizes and commission on all their sales.
Minted has radically transformed what consumers now expect in art prints, Christmas cards, wedding invitations, save the dates, birth announcements, business cards, and other personal stationery. The company's paper and printing is of the highest quality and it leads the market with the freshest designs, newest formats and most coveted details. Minted's fresh, unique designs have been featured on The Today Show and The Early Show, and in Real Simple, Town & Country, InStyle Weddings, Food & Wine and other major national magazines.