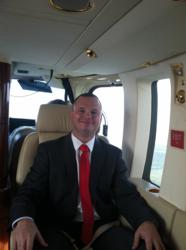 Cleveland, OH (PRWEB) October 04, 2012
Roger Bryan, founder and president of RCBryan & Associates, had the opportunity to record a discussion with legendary motivational speaker Nido Qubein. Bryan is an entrepreneur who has had success in multiple niches, including a startup that reached the Inc. Magazine list of fastest growing companies in America. A Cleveland native, Bryan recently had a sit-down discussion with Nido Qubein on the important role coaching plays in business.
Since 1974, Qubein has given more than five thousand presentations, and has become an award winning professional speaker in addition to his other accomplishments, such as publishing books and acting as the president of High Point University. As a speaker, educator, author, and consultant, Qubein is the go-to person for business advice and business coaching for entrepreneurs.
Talking with businessman and motivational speaker Nido Qubein, Roger Bryan discussed the importance of business coaching. Roger Bryan himself is a highly sought after Internet Business Development Coach who works with many entrepreneurs and business people to improve their strategic internet marketing and grow their business. For more information on business coaching and internet marketing, Roger Bryan can be reached via his social media profiles.
This unique opportunity to discuss business with Nido Qubein provided a satisfying experience for Roger Bryan, as he is also a published author and entrepreneur as well. To learn more about Roger Bryan or to get access to his video with Nido Qubein, reach out to Roger Bryan on Twitter https://twitter.com/RogerCBryan today.