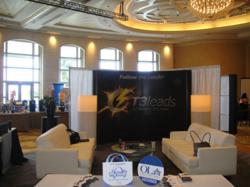 "This event re-targeted our attention to an enhanced customer experience. We look forward to implementing all that we learned."
- Monika Wylie, Regional Product Manager
Los Angeles, CA (PRWEB) October 05, 2012
Payday loan affiliate network leader, T3Leads was an attending sponsor as the Online Lenders Alliance (OLA) held its semi-annual conference in Miami September 19-21, 2012.
Representatives of T3Leads included Regional Product Manager, Monika Wylie, Business Development Manager, Morgan Gethers and Senior Product Manager, Hiko Akopyan.
The trio held a series of meetings with lenders and affiliates who included both current and potential clients.
The conference was entitled "Leadership + Innovation" and focused on "Enhancing the Customer Experience." T3Leads is a member and strong advocate of OLA's mission of open and superior customer experiences in the short term lending industry.
Regional Product Manager, Monika Wylie was pleased with the results for T3Leads and the future of the industry. "This event re-targeted our attention to an enhanced customer experience. We look forward to implementing all that we learned."
T3Leads matches affiliate marketers with financial businesses, who are looking to expand their business. It uses sophisticated web design and back-end technology to offer the most productive and user-friendly lead generation system available.
T3Leads utilizes a proprietary platform wherein affiliate marketers customize T3 designed sites, or they may create their own. For those that create their own it is a host and POST system. This combination of websites results in lead traffic of the highest caliber.
T3Leads is located in Encino, California and employs more than 50 employees worldwide.