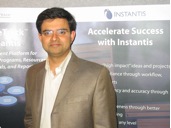 Santa Clara, Calif. (PRWEB) October 04, 2012
Instantis, the leading cloud-optimized provider of Enterprise Project Portfolio Management (EPPM) software used by IT and business process leaders to improve strategy execution and financial performance through more effective resource and work management, announced today that Instantis CEO and founder, Dr. Prasad Raje, will make a featured presentation at the CampIT IT Portfolio Management Conference on Tuesday, October 9, 2012 at the Donald E. Stephens Convention Center Rosemont (O'Hare) Illinois. The presentation is entitled "The IT Resource Management Maturity Model (RMMM) -- An Introduction to the RMMM and the Results of a Global Study on Resource Management Processes and Practices" and will commence at 10:30AM CST.
The RMMM has quickly become a de facto industry-standard tool and best practice framework for maturing organizational resource and capacity management processes. The RMMM enables organizations to define and execute an effective resource management strategy by helping stakeholders better align resource-related information needs with their level of PPM process and technology maturity. IT organizations can use the RMMM to ensure that project resources and capacity are managed at the "just right" level of granularity for the business. This presentation will provide an overview of key RMMM business drivers, concepts and recommendations.
It will also preview the results of a worldwide IT resource management study conducted by Instantis in order to better understand and characterize the level of maturity of IT resource and capacity management processes achieved by organizations of various types, sizes, geographies and PMO scopes. Over 500 organizations participated in the study whose structure was based on the maturity levels and dimensions defined and hypothesized by the RMMM. The complimentary 43-page study results white paper is perhaps the most comprehensive examination to date of the evolution of IT resource management maturity in industry and government and is available for immediate download from the Instantis web site.
About Instantis
Instantis is a leading provider of cloud project & portfolio management software used by IT and business process leaders to improve strategy execution through more effective work and resource management. Leading global corporations like Abbott, Baxter, Credit Suisse, DuPont, Lilly, National Grid and Xerox rely on a single system called EnterpriseTrack to fulfill the distinctive requirements of their strategic project portfolios such as Enterprise PMO, IT PPM, New Product Development, and Lean Six Sigma.