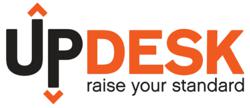 Live two years longer and burn over 30% more calories just by standing instead of sitting.
Nashville, Tennessee (PRWEB) October 10, 2012
According to the World Health Organization, the percentage of adults who are sedentary almost doubles between the ages of 20 and 65. That's the age when most people get desk jobs and then sit at them most of the day.
Since most Americans work longer hours and spend many leisure hours sitting at home, we are a country at risk. The World Health Organization warns that, "A sedentary lifestyle increases the risk of several chronic diseases, depression, a loss of physical functioning... and contributes substantially to the risk for obesity." Standing at an adjustable height desk helps reduce the time spent sitting and promotes better health.
UpDesk presents these top 4 reasons to consider an adjustable height desk.
(1) Live two years longer and burn over 30% more calories just by standing instead of sitting.
The longer you sit, the shorter your life. Just sitting less can add years to one's life according to a study in the journal BMJ Open. Researchers went so far as to say that, "Americans may add as many as two years to the nation's life expectancy if they can stand up more often." Since UpDesk's electric standing desks make it easier to stand up while working, people will automatically burn more calories and could even live longer.
Marc Hamilton is an inactivity researcher at the Pennington Biomedical Research Center. He describes what happens to one's body when sitting on a chair. "Electrical activity in the muscles drops. The muscles go as silent as those of a dead horse — leading to a cascade of harmful metabolic effects. Your calorie-burning rate immediately plunges to about one per minute, a third of what it would be if you got up and walked." (Source: Is Sitting a Lethal Activity? NYTimes.com).
(2) Standing has been proven to increase energy and productivity.
With all of the distractions and high expectations, people need ways to keep their energy level and productivity high. "I've noticed a huge increase in productivity and energy from my standing desk. I don't stand all day but I've found that standing first thing in the morning, right after lunch and at the end of the day, keeps my energy levels higher and my focus more consistent," says John Price, an UpDesk customer who works from home.
(3) An adjustable height desk gives office workers more flexibility throughout the day.
"UpDesk customers tell us they move a lot more when they are standing at work simply by having an adjustable height desk. They've started utilizing their whiteboards more and even turn on music to move to," said Kamron Kunce, UpDesk's Director of Social Media. "Just standing more is great for better overall health and enjoyment," Kunce added.
Kunce also noted, "One thing I didn't predict was a change in our office culture when everyone got standing desks. We are much more likely to talk in person and interact where before we only emailed or IM'd and never chatted face to face. It really helps promote movement."
(4) Standing straight and tall is better for one's lower back than sitting and leaning forward.
Creator/Host of Film Riot & Film State, Ryan Connolly recently upgraded to an UpDesk and featured it in his Video Show. Check it out on Ryan's YouTube channel.
For more information on standing desks options see http://www.MyUpDesk.com
About UpDesk
The UpDesk is an electric standing desk that can raise or lower at the push of a button. It's also a smart desk that has three preset settings to program preferred heights for sitting or standing.
UpDesk is a new company with a long history in healthcare. Our parent company has been making desks and other supplies for the healthcare industry for 40 years. We reinvented some of our products to help a lot more people stand up and in the process become healthier and more productive.
We want to reinvent the working environment for the millions of people who currently sit at a desk daily. We're literally sitting ourselves to death and transferring several of those sitting hours to standing hours helps productivity and overall health. Our mission is to help people to raise their standards...one desk at a time.