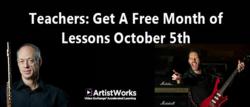 On World Teachers' Day, teachers can receive a code for an additional month free when they sign up for a three month plan by identifying the organization where they teach.
Napa, CA (PRWEB) October 05, 2012
ArtistWorks, the leading provider of online music lessons featuring world-renowned teaching artists and a revolutionary new interactive learning platform, has announced a one-day-only free additional month of lessons for teachers on World Teachers' Day.
ArtistWorks provides the average player an opportunity to study one-on-one online with master teaching artists using a patent-pending Video Exchange™ Accelerated Learning Platform. Students can work through hundreds of HD video lessons – beginner to advanced – at their convenience. Any time they have questions or need guidance, they can submit a practice video and their instructor responds with a video detailing what they are doing well, and giving them additional exercises to strengthen their weak points. These videos are paired together with the lessons and made available to the entire student population, forming an ever-evolving lesson list.
Each online music school is essentially a constantly evolving community led by the all-star teaching artist and sustained by the common goal of the students to become the musician they always wanted to be.
ArtistWorks currently offers online music schools from such world-class, virtuoso artists as: Paul Gilbert (rock guitar lessons), Andreas Oberg (jazz guitar lessons), Martin Taylor (fingerstyle guitar lessons), Jason Vieaux (classical guitar lessons), Howard Levy (harmonica lessons), DJ Qbert (DJ lessons), Christie Peery (piano lessons), Thomas Lang (rock drum lessons), Billy Cobham (jazz and fusion drum lessons), Luis Conte (percussion lessons), as well as the ArtistWorks Academy of Bluegrass with Tony Trischka (banjo lessons), Missy Raines (double bass lessons), guitar player Bryan Sutton (flatpick guitar lessons), Andy Hall (dobro lessons), Mike Marshall (mandolin lessons), and Darol Anger (fiddle lessons), David Bilger (classical trumpet lessons), Ricardo Morales (classical clarinet lessons), Jeffrey Khaner (classical flute lessons), William Caballero (classical French horn lessons) and the soon to be launched classical violin lessons with Nathan Cole and vocal lessons with Jeannie Deva.
Subscriptions are normally priced at $90.00 for 3 months, $150.00 for 6 months and $240.00 for a 12-month subscription.
On World Teachers' Day only, teachers can receive a code for an additional month free when they sign up for a three month plan by identifying the organization where they teach.
Teachers can go to http://play.artistworks.com/thank-you-teachers for more information about this one-month-free program.
About ArtistWorks, Inc.
Founded in 2008 by former AOL executive David Butler, ArtistWorks, Inc. is a Napa California-based technology and music education company that provides a global online learning community of world renowned artists and enthusiastic amateurs dedicated to unleashing the music that lies within all of us. Its Video Exchange™ Accelerated Learning Platform enables virtuoso musicians to "teach the world" by presenting their full method, technique or lesson list in HD video to subscribing students. Utilizing simple web cams, iPhones, iPads and more, students are able to submit videos for individualized video feedback and guidance - creating a two-way, online learning experience.