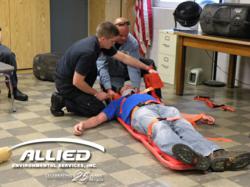 Keeping safety at top-of-mind is an absolute requirement.
Lima, Ohio (PRWEB) October 07, 2012
On September 14, 2012, Allied Environmental Services, Inc. (Allied) dedicated an entire day solely to safety training, awareness and education. The training sessions were held at the Allied headquarters in Lima, Ohio and covered a wide range of topics including: defensive driving, bloodborne pathogens, confined space entry and rescue, lead awareness, fall protection, lock-out/tag-out, man lift operation, and hazardous materials communication.
Training was provided by Allied's professional staff, as well as regional industry leaders, local fire departments and emergency response personnel. According to Allied CEO Steve Carr, the safety training day serves not only to provide hands-on training, but also to raise general awareness about safe work practices. "Our crews work in some very dangerous environments. Working at height, in confined spaces and around hazardous materials can be deadly. Keeping safety at top-of-mind is an absolute requirement," Carr stated. "We want all of our crews to end the workday just as healthy as when it began. From a business stand-point, Allied and its customers also understand the liability, either through injury or litigation, associated with a lapse in safety," Carr continued.
Allied employees maintain several specialized OSHA, EPA and ODH certifications, and must complete regular refresher training courses throughout the year. The Allied safety day is a way to bring employees and customers together and focus on safe work practices. "It's serious business, but we have a lot of fun with it too," stated Carr.
Allied has long been regarded for its dedication to workplace safety. Allied has accumulated over 1.2 million man-hours worked without a lost time accident, and has earned numerous awards and accolades from local and national agencies and trade organizations.
About Allied Environmental Services, Inc.
Allied Environmental Services, Inc. (Allied) is a leading environmental consulting and contracting firm with offices in Lima, Ohio and Toledo, Ohio. For over 25 years, Allied has provided professional environmental management solutions to private industry, property owners, lenders, municipalities, schools, and hospitals. Allied specializes in hazardous materials management, emergency spill response, industrial cleaning (vac-truck and hydroblasting services), asbestos abatement, underground storage tank closure, Phase I and II ESA, and air quality testing.
For more information please visit Allied's website at http://www.allied-environmental.com.