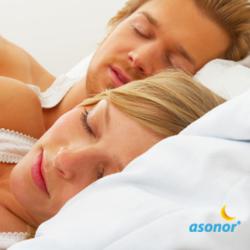 more that 77% of the 1.000 testers have given a positive value to the Asonor
Copenhagen, Denmark (PRWEB) October 07, 2012
Cutting across nations, races and ethnicity, snoring affects both men and women of all ages and in turn it affects normal sleep patterns for the snorer and the bed partner. Though there are numerous companies manufacturing anti-snoring devices, Danish-based TannerMedico A/S anti-snoring solution, Asonor has remained one of the most sought after remedies worldwide. Though it has been available all over Europe for numerous years, it is now available worldwide with free shipping and has achieved remarkable reduction in snoring for customers. It is safe for regular use and is sold over-the-counter while it has been made to the highest quality standards, GMP in the EU.
In September 2012, over 4,000 people at the Swedish Buzzador organization volunteered to test the effectiveness of anti-snoring solution, Asonor as per specific guidelines and instructions for use which were a part of the package. The volunteers utilized the Asonor, anti snoring product for 30 days and later each of the volunteer filled out a detailed questionnaire that included responses from partners.
The results of the study in September that have come to the forefront clearly show that over 77% of the testers have given a positive value to the Asonor while 72% are going to continue using it even after the study is completed. Nearly 77% are happy with the results of the anti-snoring remedy and are recommending it to family and friends suffering with snoring. While 66% did say that they find Asonor, anti-snoring solution better than other products that they have used in the past.
CEO of TannerMedico A/S, Mr. Rene Moller said: "It is a great pleasure to see that our anti-snoring product is helping people sleep better and we have got great response to the independent study that was conducted by volunteers using Asonor."
According to the study conducted, the advantage of using Asonor was that it is an easy to use nose drops, with no after-taste or smell. Not only did the volunteers sleep better but they had a more peaceful sleep and woke up feeling better with reduced occurrence of migraine and headache. Most of the testers felt that throat and nose was not dry while the quality of sleep did improve.
Another independent user test that was conducted which has rated Asonor as the best anti-snoring product with the most cost-effective ratio of price/performance. This user test was done by comparing over 7 different anti-snoring solutions and products by a health magazine and included all products in the anti-snoring category in Sweden. These included:

Silence, mouth spray
Zedopor, mouth spray
Snoreeze, mouth spray
Snorban, mouthpiece
Breathe Right, the nasal strips
Tempur, pillows
Asonor, anti-snoring nasal spray
These results are in tune with the previous clinical trials and independent surveys that were done to study the effectiveness of Asonor as an anti-snoring solution. TannerMedico is the sole manufacturer and worldwide distributor of leading product Asonor, anti-snore nose drops that has been clinically proven in Copenhagen and London.