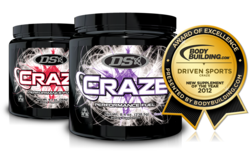 This is the first Bodybuilding.com Supplement Award won by Driven Sports, and we are confident it will not be the last!
New York, NY. (PRWEB) October 06, 2012
Sports Nutrition brand, Driven Sports, purveyor of the smash hit pre-workout product Craze®, has come away from the 2012 Bodybuilding.com Supplement Awards as a big winner for New Supplement of the Year!
Bodybuilding.com is the Internet's most-visited bodybuilding and fitness site and largest online retailer of nutritional supplements. The Bodybuilding.com Supplement Awards are given out annually and have grown in prestige every year. Seventy brands were nominated in this year's awards. Included in this list of nominations was Driven Sports, up for Breakout Brand of the Year, and their pre-workout product, Craze®, which was up for New Supplement of the Year and Best Pre-Workout Supplement.
Upon receiving the nominations in these three supplement award categories, Driven Sports pledged a charitable donation of $1,000 to the ASPCA for every award that they won. This follows from the previous year in 2011 where Driven Sports pledged to donate to Hire Heroes USA for each of the two awards they were nominated for. In 2011 Driven Sports won neither award, but donated to Hire Heroes USA regardless.
Voting was open between July 13th and August 31st, 2012 with a record-breaking 2.4 million votes cast, destroying the previous year's best of just over one million! The awards were presented on September 28th and 29th at the Mr Olympia contest in Las Vegas, Nevada, and amongst the winners was Craze®.
"We are absolutely THRILLED to receive the award for New Supplement of the Year for Craze," said Driven Sports' VP of Operations, Matt Cahill. "This is the first Bodybuilding.com Supplement Award won by Driven Sports, and we are confident it will not be the last!"
Despite not taking home the other categories, Driven Sports will be making the full $3,000 donation to the ASPCA. "We know the donation is going to a fantastic cause that we fully support and believe in, hopefully this goes some way to highlight this great charity," Cahill added.
The ASPCA (The American Society for the Prevention of Cruelty to Animals) is an organization dedicated to rescuing animals from abusive homes, or animals in need of shelter. The ASPCA has been around for over one hundred years and has helped a countless number of animals during this time.
For more information please visit: http://www.aspca.org
Driven Sports is a leading sports nutrition manufacturer famous for releasing some of the most popular supplements available. For more information check out http://www.drivensports.com, or follow them on Facebook and Twitter.