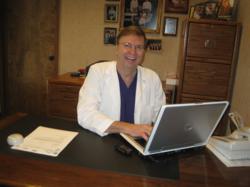 Houma, LA (PRWEB) October 08, 2012
Murray L. Rabalais, P.D., D.D.S., is a periodontist who cares about the comfort of his patients. He understands that some of the discomfort associated with visiting the dentist is connected to the flow of the anesthetic into the tissues. Using the Wand, this flow is controlled in such a way that most patients fill little, if any, discomfort when receiving anesthesia.
The Wand is basically a dental injection of anesthesia that is completely controlled by the computer. The rate of flow is pre-programmed and controlled by the computer. In most cases, the Wand delivers a very small amount of anesthetic at a slow rate to begin with and gradually increases the rate of flow. This allows the pain to be managed better for the patients. The device makes sure that the patient is getting the correct dose of the anesthetic at a flow rate that provides the patient with a comfortable experience.
The Wand itself looks like a miniaturized computer tower with a cartridge of anesthetic on top. It is connected through a tube to a device that resembles a ball-point pen. This handheld device has a tiny needle on the end that the periodontist uses to deliver the anesthesia to the patient. Once he has the device in place, a foot pedal is used to begin the injection process.
Many people have a fear of needles, and this is one reason some of them do not like to get dental treatment. By going to a professional that uses Wand technology, this fear can be alleviated. Patients no longer need to put off getting necessary treatment because of the fear of pain from the anesthetic delivery system. For more information about the Wand and procedures it is used for, visit http://www.louisiana-periodontist.com.
Progressive Periodontics is a periodontal practice offering patients personalized dental care for Houma/Thibodaux area and New Iberia, Louisiana since 1980. Dr. Murray L. Rabalais graduated from Northeast Louisiana State College with a Bachelor of Science degree in Pharmacy. He received his Doctor of Dental Surgery degree from Loyola University in 1970. After serving in the United States Army he entered the LSU School of Dentistry for post-graduate studies in Periodontics and received his Certificate in Periodontics in 1980. Dr. Rabalais is part of one percent of dental professionals providing the most recent FDA cleared laser procedure for gum disease and periodontal treatment. To learn more about Progressive Periodontics and their dental services visit their website at http://www.louisiana-periodontist.com or call either office:
Houma: 985-231-5333
New Iberia: 337-376-0767