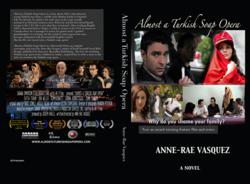 Turkish soap operas are such the rage in the Middle East,a popular actor, Kivanc Tatlitug, has been tagged as the Turkish Brad Pitt.
Vancouver, BC Canada (PRWEB) October 07, 2012
Why Turkish soap operas? Author Anne-Rae Vasquez blames her addiction to watching Turkish TV series or soap operas on an Arabic couple who stayed with her for a few months from the Middle East. During their visit, the wife said that she missed watching her favourite Arabic-dubbed Turkish soaps. Anne-Rae did not realize how popular Turkish TV series were until she found multiple sites with streaming videos of the most popular soap operas. This started a nightly ritual of watching back-to-back episodes of different series of Turkish soaps. Their marathon-watching weekends were full of fun, laughter and drama.
Anne-Rae writes, "The popularity of Turkish soap operas or TV series' in the Arab speaking world, Europe and Asia is not well known here in the West. The Turkish TV series' storylines are packed with jealousies and misunderstandings in family life and marriages, mafia encounters, economic problems and societal pressures, which all make for great drama. What I find fascinating in watching Turkish soap operas is how the Middle Eastern culture is woven into the modern way that Turkish people live which has influences from the Western and Eastern societies. I thank our producers Sababa Emporium Film Productions for allowing me to retell the story with so many different lenses – as a feature film, a short and as a series."
Turkish soap operas dubbed in Arabic and many other languages have become a hit in the Middle East and European countries since MBC (Middle East Broadcast Center) started broadcasting the shows on their satellite channels. A popular actor, Kivanc Tatlitug, has been tagged as the Turkish Brad Pitt.
These soaps or TV series have caught the attention of men and women, and young and old alike. Families work around their daily schedules so that they are home in time to catch the next episode of their favourite soap. Some Islamic religious leaders blame the TV soaps for injecting Western society's influence on Muslim family beliefs and traditions. But in most part, viewers find the shows entertaining and they find they can relate to them because they depict everyday life with people who have similar cultures unlike the characters in shows from mainstream American television or Hollywood blockbusters.
After completing the first draft of her book "Almost a Turkish Soap Opera", author Anne-Rae Vasquez decided to write a screenplay. She pitched the story to her business partner Joseph Khalil who became her producer. Joseph brought in investors and produced "Almost a Turkish Soap Opera" which is now an award winning independent feature film and web series and Anne-Rae's directorial debut. The feature film and series have been screened at North American film festivals and have won recognition and awards.
Almost a Turkish Soap Opera, is an independent feature film about the turmoil of two young modern Turkish men looking for the glamour in Hollywood. Instead of finding fortune and fame, they end up in arranged marriages, illegal employment, scandalous affairs, and family chaos.
Read an excerpt from the novel on GoodReads.
Check out Anne-Rae Vasquez's books on Amazon.