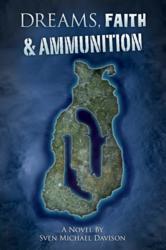 Having experienced suicidal depression myself, I wanted to give others hope.
Los Angeles, CA (PRWEB) October 08, 2012
According to the September 22, 2012 article in the Daily Mail, "more Americans now commit suicide than are killed in car crashes as miserable economy takes its toll." The article goes on to say "the number of people who commit suicide in the U.S. has drastically increased while deaths from car accidents have dropped, making suicide the leading cause of injury death."
"Having experienced suicidal depression myself, I wanted to give others hope with my book 'Dreams, Faith & Ammunition.'" Davison reflects. "I wrote about my struggles with depression and told a parallel story from the point of view of a man in the nineteenth century who was also suicidal but did not have the same support or understanding that we have today. I felt this approach gives perspective, especially to those in a less-compassionate environment." Davison tells how it feels to go through the various stages of depression and how he came close to ending his own life. Ultimately, he finds help and talks about all the avenues people can take to recover. "I wrote the book for anyone suffering the relentless feelings of self-loathing and to guide those close to the victims to see the signs before it's too late."
"Not everyone commits suicide over the same catalyst, but they all commit suicide because they feel there is no longer hope. It is an extremely difficult place to escape. I know. I've been there," states Davison.
Because the topic is difficult to digest, the book is wrapped in an entertaining narrative so there are breaks of humor and fly-on-the-wall moments between the darker passages. "It's the chocolate coating to help you wash down the bitter taste of suicidal depression." Davison says. "I take the reader on the downward spiral, all the way to the moment where I have a gun pointed to my head, and how I got help."
"Dreams, Faith & Ammunition" is part historical fiction, part memoir. Two men, three timelines, one location; "Dreams, Faith & Ammunition" is a story about seeking the Promised Land. In the nineteenth century one man seeks it literally, first by following Mormon leaders Joseph Smith and then James Strang, to build a Kingdom of God on earth. In the twentieth century, another man envisions the Promised Land as the rewards and lifestyle he will achieve once he finishes his great American novel.
Both men move to Beaver Island, Michigan to fulfill their ideals. Both men face unforeseen obstacles and must overcome personal demons in their journey of faith and suicidal depression.
"Dreams, Faith and Ammunition is a deeply moving work… that I couldn't put down." D. Welch
"Very good book. I admire the courage it took to write it." By Leslie
Davison is an award-winning author living with his wife and son in the Los Angeles area. "Dreams, Faith & Ammunition" his is his third novel. "State of Union," the sequel to Davison's "State of Mind," will be published later this month, on October 30th. The third installment of the "God Head Trilogy" will be released in the spring of 2013. That title will be announced around the time "State of Union" hits the market.
DREAMS, FAITH & AMMUNITION
By Sven Michael Davison
Published by Bedouin Press
$25.95 • (495 pages) • 6 x 9
Hardcover with dust jacket • ISBN: 978-0-9855528-1-7
eBook $2.99