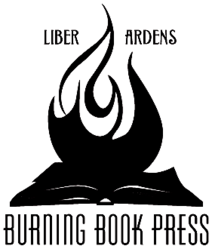 We founded this company in the belief that great genre fiction writing should be both accessible and literary.
Atlanta, GA (PRWEB) October 08, 2012
Burning Book Press, LLC today announced its entry into the rapidly growing market of independent ebook publishers. The startup company aspires to offer ebook readers fine literature - the exceptional quality that has long defined literary fiction - across multiple genres, including Contemporary Fiction, Erotica, Romance, Mystery, Horror , Science Fiction and Fantasy.
"We founded this company in the belief that great genre fiction writing should be both accessible and literary. Longtime readers of serious genre fiction know there has long existed writing of a very high level of quality that has been too esoteric for mainstream paper publishers to invest in," said Madeleine Morris, Executive Editor and Art Director of Burning Book Press. "Digital books drop the materials cost to almost nothing, and while the media has been focused on how now 'anyone can be a writer,' we see the opportunity for established, talented genre writers to reach a wider audience."
The company launches with six Literary Erotica titles immediately available for purchase from the publisher's website, The Amazon Kindle Store, and SmashWords. The list includes several New Editions of previously published novels as well as completely new works:
~ The Waiting Room by Remittance Girl: A stranger met in a strange place offers to change your life; how do you answer? (New Edition)
~ Normal by Ruby Kiddell: Through her relationship with her Mistress, a woman finds love, herself, and, eventually, makes a choice. (New Edition)
~ Confessions of a Rentboy by T.R. Verten: A young man loses himself to the world of high-class prostitution, parties, sex and debauchery, only to eventually find himself through the bodies, wants and needs of strangers and lovers. (New Edition)
~ Finding Anastasia by Aisling Weaver: An erotic novel of lesbian desire, love, and the desperation of insecurity. (New Edition)
~ Fever: An Anthology of Micro-Erotica by Wyeth Bailey, Ruby Kiddell, Raziel Moore & Aisling Weaver :Four Authors tell 100 stories in the minimalist style of 100-word flash fiction.
~ Trapping A Duchess by Michele Bekemeyer: In the first of the Scandals of the Heart series, stubborn and willful meets intractable and implacable in this Regency era romance. (New Edition)
~ Erotikos by Raziel Moore, William Crimson and Ximena Mendez: The trio of the popular Erotic Writer website offer a showcase of their most popular works.
Six of the seven titles announced with the launch of the company are in the Literary Erotica category. "We have numerous manuscripts in various stages of the editing cycle in other categories," said Editor-in-Chief Jennifer Derby. "But with the flurry of market interest in erotica, we felt it critical not to wait any longer."
Burning Book Press was founded by two published erotica writers and a marketing executive with extensive experience in new and emerging markets. The company's editorial board includes six additional working members. The startup has signed authors in the US, UK and Asia. Burning Book Press will be releasing new books over the next several quarters.
"The publishing industry is in a state of complete disruption," said Publisher Holland Carney. "The opportunity created for self- and indie-publishing has been astonishing. The downside of the disintermediation, however, has meant many readers have suffered through too much bad writing. The old rules are out, yes. We're trying to create, in our tiny corner of the world, a set of standards that say genre writing, indie publishing, ebooks – with talent and proper attention, all of it can still yield excellent writing. That is our goal. It's a lofty one. We expect to stumble. But we're working hard to achieve it."
Burning Book Press operates with the agility of a small indie e-publisher while seeking to set a high professional standard for editorial quality -- from manuscript acquisition, through editing, production, marketing and distribution.
The company is privately held with principals operating in Atlanta and London. Visit http://www.BurningBookPress.com or search our titles on Amazon or Smashwords.