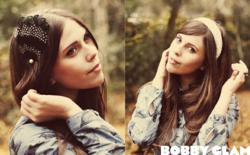 Sammy says: "The Lolita Ivory Lace Tie Headband has such a vintage vibe. This headband looks absolutely incredible with a bouffant updo; it really sets it off."
(PRWEB) October 18, 2012
BobbyGlam hair extensions announce their top five hair accessories, from a range of hair bands and clips, to be on-trend this season with your look.
Vintage hair accessories are perfect for transforming your look and adding that extra something to your updo or downdo. BobbyGlam have a range of vintage headbands and hair clips to customise every style.
BobbyGlam select the Antiqued Greek Goddess Headband as their favourite from the hair accessories range. The Antiqued Greek Goddess Headband has a gorgeous gold leaf design.
Sammy from BobbyGlam says: "This headband looks stunning with either an updo or a downdo. I think it looks especially lovely when the hair is styled into loose waves."
Next, BobbyGlam announce that the Cute Baby Owl Hair Clips make their top five hair accessories. The Cute Baby Owl Hair Clips have a vintage finish and the owls have adorable amber eyes and white enamel bellies.
Sammy says: "Oh these clips are super cute. They're a must have for your hair accessories collection. You can clip them in to accessorise most hair styles and looks."
BobbyGlam pick the Lolita Ivory Lace Tie Headband as another of their top five hair accessories. The ties can be fashioned into a bow or a knot to finish the style, making this a versatile hair accessory.
Sammy says: "The Lolita Ivory Lace Tie Headband has such a vintage vibe. This headband looks absolutely incredible with a bouffant updo; it really sets it off."
BobbyGlam also select the Candy Vintage Coloured Spots Hair Clips as one of their top five hair accessories. These clips are a set of five and they are super girly.
Sammy says: "They are a perfect accessory for summertime, but they can brighten up your winter style too! Not everything has to be grey!! We love how vibrant these hair clips are; they're super cute for any hairstyle too."
And finally, BobbyGlam say that the Emerald and Black Spotted Feather Headband with Pearl makes their top five hair accessories. This hair accessory is bang-on-trend for this season.
Sammy says: "This feathered headband is perfect with a downdo and is great for a glamorous style. We have loads of feather hair clips and feathered hair bands to choose from, but this one has to be my favourite."
Hair accessories from BobbyGlam can be found on the website along with clip in hair extensions, hair care products, hair tools, and vintage jewellery.