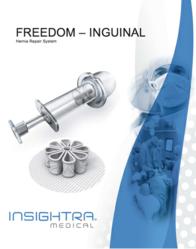 ProFlor
Irvine, CA (PRWEB) October 10, 2012
More than 800,000 inguinal hernias are performed each year in the United States, with a majority of surgical procedures involving some form of prosthesis such as surgical meshes or plugs. These systems are often fixed in place using sutures, tacks or other methods that hold the devices firmly in place. This "fixation" is thought to be one of the reasons for the syndrome of postoperative chronic hernia pain. Flat meshes have been shown to shrink up to 30%, while plugs are as high as 70%. In both cases the implant can pull on the fixation, become rigid or feel like a hard, fibrotic foreign body.
The new inguinal hernia system from Insightra Medical contains the ProFlor™ – flower shaped implant; an open structure made of polypropylene that recoils when compressed. Using a special delivery device, the implant is loaded under compression and then released into the inguinal hernia defect where it stabilizes in the tissues without the need for fixation.
Initial clinical results from two studies in Italy have shown that the implant stays in place and the implant has shown excellent post-operative pain scores. The product has been available outside of the USA in a limited clinical launch for over 3 years and has been implanted in over 200 patients, some of the patients with a follow up beyond 36 months. Results in terms of complications, pain, discomfort and recurrence remain very encouraging.
A key to the Freedom Inguinal Hernia System is the relatively simple implantation technique that can be performed through a small incision under local anesthesia. The delivery device helps to deliver a small pre-peritoneal disk attached to the implant core, which helps to cover the defect from behind.
Insightra plans to conduct ongoing studies and begin a U.S. training program for physicians. In conjunction with the release, the company has hired sales executive Todd Perz as its Vice President of North American Sales, and is building a North American sales force.
For more information please visit http://www.insightra.com