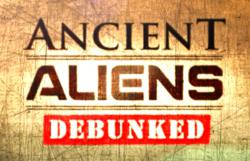 Nashville, TN (PRWEB) October 10, 2012
Along with commentary by noted Ph.D. scholar, Dr. Michael Heiser, independent filmmaker Chris White presents a lengthy point-by-point critique of the Ancient Aliens series while providing a sizable list of references from scientific journals and other scholarly sources to back up his refutations.
These 252 footnotes available at the companion website ancientaliensdebunked.com, combined with White's arguments in the film, attempt to show that the theories promoted by the History Channel as historical fact are actually fairly easy to disprove.
Even those sympathetic to the ideas proposed in the Ancient Aliens series are giving praise to this new documentary. One author from the DailyGrail.com, a very prominent website that typically upholds the viewpoints touted in Ancient Aliens, recently said the following of White's new film:
"A new 3-hour(!) documentary, Ancient Aliens Debunked, takes the series apart, fact-checking individual's claims on topics including pyramid construction, the Temple of Baalbek, Incan sites, Easter Island. Pacal's 'rocket', the Nazca lines, and the Egyptian 'light bulb'.…..[the film] offers clarifications, corrections, and background information that certainly removes much of the superficial gloss from Ancient Aliens."
White examines Ancient Alien's claims about ancient texts like the Anunnaki of the Sumerian texts and Ezekiel's "Wheel" of the Bible. He also looks into ancient artifacts including the crystal skulls, various paintings supposedly depicting UFOs, and the Colombian golden "fighter jets" all of which are purported to validate the ancient astronaut theory. In addition, the latest archeological research is presented to explain how huge structures like the Pyramids and the Pumapunku temple in Boliva were built. In total eighteen of 'Ancient Aliens' principal claims are countered in this film.
'Ancient Aliens Debunked' is available free of charge on the internet and is a completely non-profit project. Viewers are encouraged to distribute copies of the DVD as long as they do not profit from its distribution.
For more information or to see the film and all the references go to http://ancientaliensdebunked.com
Contact Chris White for interviews or more information at chris(at)ancientaliensdebunked(dot)com