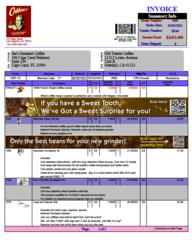 "Promotional ads are easily inserted in your existing business documents by non IT employees based on items customers are already buying. If you can copy and paste a file, you can start an ad campaign." said Steve Luke, President of Eclipse Corporation.
Cape Coral, FL (PRWEB) October 10, 2012
Eclipse Corporation announces "Auto-Ad-Item" for enterprise document generation promotional marketing and customer communication management. Finally a solution the marketing and IT team can agree on, use transactional business documents for marketing and branding tools.
Easy as 1, 2, 3. Marketing determines that people buying flavored coffee often buy chocolate covered wooden spoons which is a high margin item. Marketing creates an ad for chocolate spoons and drops it in the Auto-Ad-Item folder. Seconds later, ads start appearing in documents being sent daily to customers. "Auto-Ad-Item" is a feature of DocOrigin 2.0 enterprise document generation software. DocOrigin is a scalable enterprise document generation software solution that meets the performance requirements for even the most demanding global companies. Here's how it works:
1. Marketing creates a cross sell ad for popular items to encourage other product purchases.
2. On the date the marketing campaign is to start, marketing places the ad image in DocOrigin Auto-Ad-Item folder.
3. Ads automatically begin to appear in business documents to Up Sell and Cross Sell items. When the campaign for the items ends, marketing simply deletes the ad from the DocOrigin Auto-Ad-Item folder.
See Attached Samples Images or Click here to see a sample document.
Ads can vary in size, DocOrigin enterprise document generation software adjusts automatically to place the image on the page above or below the item that triggered the ad. This brings attention to the customer and provides the relationship to mentally connect the cross promotional value you want in your marketing.
Another great feature provided with DocOrigin is Dynamic White Space Management "DWSM". DWSM optimizes cross promo marketing without wasting valuable presentation space, and saves paper when printing cross promo documents. With DWSM, DocOrigin determines the amount of space left on the last page of a document and places ads that will fit the white space without causing an overflow condition on the page. Ads the full width of the page can be dynamically placed on the page to fill available white space that would otherwise be of no value to your marketing effort. The available white space can be filled with one or multiple ads. DocOrigin can automatically fill the space with the largest add that will fit the space, or place several smaller ads to fill the space. See Examples
Built utilizing the principles of Integration Without Modification ("IWM"), DocOrigin works with all line of business software packages and supports international languages and data formatting. IWM eliminates the need to make changes to business software yet provides dynamic data driven documents and promotional marketing.
Clients in the healthcare, banking, manufacturing, distribution, logistics, and government industries among others use DocOrigin software. DocOrigin integrates easily with IBS, Infor, Lawson, Microsoft, Oracle, QAD, Sage, SAP, and other major software solutions. DocOrigin customers enjoy rapid deployment with the benefits of IWM and major cost savings with Intelligent Document Reduction® ("IDR"). IDR reduces the page surfaces required to present information by up to 66%, saving paper, bandwidth and storage space.
Eclipse is actively looking for resellers and OEM's for DocOrigin.
Complete details on DocOrigin 2.0
+1.678.408.1245, email info(at)EclipseCorp(dot)US or Contact: Will Luke, Will(dot)Luke(at)EclipseCorp(dot)us
About Eclipse
Eclipse Corporation is a leading provider of document automation, enterprise document generation software and customer communication management solutions. Eclipse products help companies manage information by making documents more accessible and dynamic for customer facing and internal uses. With more than twenty years of experience, Eclipse provides deep knowledge of document automation and document management software. Eclipse listens to clients and provides solutions that work quickly at a fair price. Our solutions are based on products developed by Adobe, Eclipse Corporation and OF Software. Adobe LiveCycle, DocOrigin and iFORMagine products provide native support for AIX, IBM i, LINUX, and WINDOWS servers.
Eclipse principles are simple: provide the right solution and get the job done - on time. It's their depth of experience that allows Eclipse to deliver on these principles every time.
More Info:
"Intelligent Document Reduction" is a registered trademark of Eclipse Corporation WSL Inc.
The software developers of DocOrigin created similar software that was previously sold by Adobe, JetForm, and Resolutions. JetForm Central was purchased by 100% of the Fortune 10, and 71% of the Fortune 1000 and is still being used by thousands of companies today. DocOrigin version 2.0 is the culmination of more than 20 years of experience and combines the latest in software technology with the knowledge gained from creating the most widely used e-forms products in the world.
Eclipse Corporation WSL Inc. dba Eclipse Corporation
Eclipse Corporation is an Oracle Gold Partner
Eclipse Corporation is a member of IBM Partners in Development