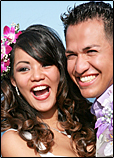 I make travel easy with payment plans
Honolulu, Hawaii (PRWEB) October 09, 2012
Maui'd Forever is one of Hawaii's few full service, all-Hawaiian Islands wedding planner and coordinator. Founded in 2003 by entrepreneur Mark Steffan, the company operates on the Hawaiian Islands of Oahu, Maui, Kauai and the Big Island of Hawaii. They use over 150 different wedding vendors and still find the need to add additional members to their team. They also are affiliating with selected travel agents across the countries that have extensive Hawaii knowledge and interested clients.
They are happy to announce their newest member, Debi Ferguson with Worldview Travel Agency. She is an independent travel specialist dedicated to Hawaii bound travel. She tells is that "our agency consists of approximately 250 agents, both in house & independents. My primary bookings are made in Hawaii, California & Las Vegas. I can book everywhere; it is just that Hawaii is where my expertise lies. I also specialize in booking cruises. I have personally traveled to Hawaii many times, mainly to Maui & Oahu but I have been to Kauai & the big Island".
She also tells us how she makes booking travel easier in these tough economic times. Debi says about this "many of the airlines my agency has a relationship with can typically get a client in with a deposit to hold their package at current rates and allow them to make payments towards their trip. United, Delta & US Airways are usually the airlines offering packages. Usually final payment is made within 30-45 days of departure. This attracts a lot of business as many people do not have the cash up front when they are ready to book. I can only secure these types of packages when they are combined with either air or hotel for a minimum of 3 days".
Even with her knowledge of the Hawaiian Islands she is relying on Maui'd Forever and lead coordinator Lisa Makaneole to help with her clients wedding and vow renewal needs. Maui'd Forever has performed over 3500 weddings since inception on Oahu, Kauai, Maui and the Big Island of Hawaii. The clients of Ms. Ferguson pay no more for this expert advice and experience.
Wedding and vow renewal packages start at just $299 which includes all that is needed for a Hawaiian ceremony. That minimal package consists of the requisite permit for the site, a minister to perform the ceremony, 2 leis used in the ceremony with the customary lei exchange and a keepsake wedding or vow renewal certificate. Their packages can be built upon from their and can add just about any wedding service desired including photography, video and more.