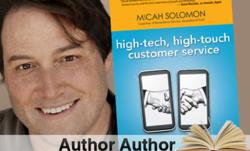 Steve Wozniak: "Micah Solomon conveys an up to the minute and deeply practical take on customer service, business success, and the twin importance of people and technology."
Grandville, MI (PRWEB) October 11, 2012
Micah Solomon, the top-rated professional speaker, sought-after keynote speaker and bestselling business author, has been chosen to headline Michigan Insurance agency Berends Hendricks Stuit's renowned Fall Speaker Series.
The audience at Berends Hendricks Stuit will learn to inspire timeless loyalty in the demanding new world of social commerce, and to build customers for life in this age of social media, self-service, global competition, and endless distractions. This invitation-only event in at the Pinnacle Center in Hudsonville will feature professional keynote speaker and bestselling author Micah Solomon providing his mesmerizing mix of hands-on experience, best practices, and cultural philosophy from Apple, Google, Ritz-Carlton, Zappos, Four Seasons, and more. Based on Micah's latest #1 bestselling book, High-Tech, High-Touch, Customer Service (AMACOM/American Management Association, 2012)
Micah Solomon is a top keynote speaker, thought leader, and hands-on consultant on the customer experience, customer service, 21st-century marketing, company culture, leadership, innovation, and social (and antisocial!) media. To quote Apple co-founder Steve Wozniak, "Micah Solomon conveys an up to the minute and deeply practical take on customer service, business success, and the twin importance of people and technology."
Micah Solomon's expertise has been featured on NBC, ABC, CBS, and FOX television programming, as well as in Forbes, FastCompany, Inc. Magazine, Bloomberg BusinessWeek, The Washington Post, and elsewhere. He is the author of two of the bestselling business books in his field, both published by AMACOM Books (American Management Association). His most recent book is "High-Tech, High-Touch Customer Service" (2012).
About Micah Solomon
Micah Solomon is a professional business keynote speaker, customer service speaker and customer loyalty consultant, company culture guru, hospitality expert, entrepreneur, business leader and #1 bestselling author. He has been named by The Financial Post a "New Guru of Customer Service Excellence." He specializes in creating exceptional customer experiences while keeping an unblinking eye on bottom line results–in automotive, hospitality, B2B, the healthcare industry, communications, banking, financial services, and many other industries. He built his company, Oasis Disc Manufacturing, from a one-man basement operation into a market leader in the independent entertainment field—a story well known to readers of Fast Company, Success Magazine, Inc. Magazine, Seth Godin's marketing bestseller Purple Cow, The Atlanta Journal-Constitution, and the other outlets where profiles and case studies about Micah have appeared. Micah has also been featured in Forbes.com, Retail Customer Experience, Portfolio.com, Bloomberg BusinessWeek, Information Week, Washington Post, Entrepreneur, The Boston Globe, Los Angeles Times, and other media outlets. He appears and speaks on on the ABC, NBC, and FOX television networks and on Wall Street Journal Radio, is a sought-after business keynote speaker and consultant to corporations and professional organizations.
He was also an early investor in MacSpeech, the Apple-related speech recognition startup recently acquired by Nuance (technology central to iPhone's Siri). Solomon offers information and free resources at http://www.micahsolomon.com and is the founder and "Dean" of the online resource, "College of the Customer."
About Berends Hendricks Stuit Insurance Agency, Inc.
Berends Hendricks Stuit Agency, Inc.'s staff of 115 professionals has the privilege of serving over 2,400 commercial customers, 13,000 personal customers and 700 businesses for employee benefits. The agency's main branch is located at 3055 44th St. SW, Grandville, MI, with offices located throughout West Michigan in Holland, Hudsonville, Byron Center, and Kalamazoo.
BHS has received recognition from several insurers for both production and quality. We are a Platinum Agency with United Healthcare and Blue Cross Blue Shield of Michigan, a Priority Health Key Producer, Accident Fund "Diamond Club Agency," a Cincinnati "Presidents Circle Agency," a Hastings Mutual "Exceptional Agency," and a member of the "1885 Clue," a Selective "Presidents Club Agency," a Grange "Senior Partner Agency," a Citizens "President Club Agency," and The Hartford "VIP Agency." We have also been recognized nationally as a "BEST Practices" agency by the IIAA (Independent Insurance Agents of America) as one of the "Top Thirty" performing agencies in our revenue category for the past 19 years. In 2005, we were honored to be named Agency of the Year by the Accident Fund and Michigan Agent of the Year by Grange Insurance.
For more information:
About professional speaker Micah Solomon:
please contact micah(at)micahsolomon(dot)com http://www.micahsolomon.com or (484)343-5881 (cell)
About Berends Hendricks Stuit Insurance Agency:
please contact 616-531-1900 or http://www.bhsins.com.