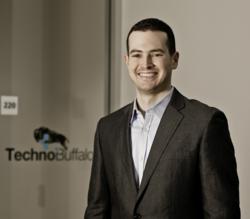 This is a major milestone for us and we're proud to be the top Internet resource for so many techies.
Irvine, CA (PRWEB) October 10, 2012
It's not even three years old yet, but TechnoBuffalo.com is now officially one of the world's largest technology blogs.
New web traffic results released today by TechnoBuffalo show the popular technology and gadget review site brings in over 6.4 million page views each month - and more than 1.5 million unique visitors per month as well. It also reached a record 15 million impressions from video and text in September, including 8.5 million video views on its popular YouTube channel. That puts it in the top-tier of technology blogs, according to online traffic statistics.
TechnoBuffalo has built up a strong social media presence with over 358,000 YouTube subscribers (and 181 million total video views), 50,000 Twitter followers and 30,000 Facebook likes.
Site statistics for TechnoBuffalo.com showed year-over-year growth of 201 percent for the first three quarters of 2012. It posted record Web traffic for seven consecutive months and dropped its bounce rate by 10 percent this year.
"This is a major milestone for us and we're proud to be the top Internet resource for so many techies out there," said Jon Rettinger, MBA, founder and president of TechnoBuffalo. "Our team of editors works hard every day to find and report the latest technology news, review and video the latest gadgets, cover conferences and product announcements from Silicon Valley to Berlin, and it's a thrill to see that so many people out there are supporting us."
Founded in 2010 by Rettinger, the blog originally began as impromptu gadget reviews on YouTube. Today it employs 11 staff members, in addition to a growing network of contributors. A Spanish-language franchise (http://www.TechnoBuffalo.com.ar) opened earlier this year in Argentina as well.
The site provides original news reporting on the technology industry, product scoops, first-hand and video reviews of new and not-yet-released products, editorials, and other reports.
TechnoBuffalo's content is often cited by other news outlets, including the Washington Post, Los Angeles Times, Forbes, Huffington Post, Business Insider, Laptop, PCMagazine and many more. Rettinger and the site's senior editors are also regular guests on CNBC, FOX Business Network and FOX Live, and have been quoted in US News and World Report, Kiplinger's Personal Finance, CNN.com, FOXBusiness.com, FOXNews.com, Wireless Week and other outlets.
Earlier this year, the site partnered with Revision3 to produce three weekly tech shows: Ask the Buffalo (Mondays), What's the App? (Wednesdays) and Rumor Roundup (Fridays). Rettinger is also eHow's featured "Tech Expert" for the site's technology channel.
In July, TechnoBuffalo made legal history in Illinois by becoming the first blog to win protection under the "reporter's privilege" statute. The landmark case of JohnsByrne v. TechnoBuffalo, Media Temple, Google and AT&T was reported by the Chicago Tribune, Chicago Sun-Times, Citizens Media Law Project, ABC-7 and others. The case is an important victory for bloggers' rights as it sets a legal precedent in Illinois and nationwide that blogs are protected under the nation's media shield laws.
Where is TechnoBuffalo headed? "We have big growth plans, but our number one goal is to remain the top resource for accurate, helpful and unbiased information about the latest consumer electronics - to be the voice of the consumer," said Rettinger. "Later this year, we'll be launching an important site redesign and we'll also continue to expand our coverage in key product categories and events."
ABOUT TECHNOBUFFALO:
Founded in 2010, TechnoBuffalo, LLC is a technology blog that generates a combined nine million monthly views of its articles and videos. Founded by Jon Rettinger, the popular blog covers the latest news and products in the computer, mobile, gaming, imaging and automotive industries. TechnoBuffalo's reporting is frequently cited by other news outlets and its stories, reviews and editorials have appeared in Wired, The Huffington Post, Wireless Week, Business Insider, FOXBusiness.com and many more. TechnoBuffalo has three weekly shows on Revision3: Ask the Buffalo (Mondays), What's the App? (Wednesdays) and Rumor Roundup (Fridays). Website:http://www.technobuffalo.com. Follow on Twitter @TechnoBuffalo.