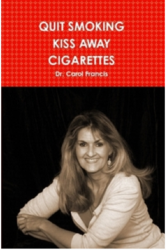 Finally, an easy, comprehensive and inexpensive way to start the path of successfully breaking addictions to cigarettes.
Manhattan Beach, CA (PRWEB) October 16, 2012
Stop smoking this week. Be free of cigarettes and be healthy. Dr. Carol Francis, author of the KISS AWAY CIGARETTES Method of stop smoking is passionate about helping people end their addiction to the cancer-causing habit of smoking. To receive the extremely reduced assistance, click this link and find out more: http://www.facebook.com/StopSmokingSuccessfully/app_374126399298965. Also, find tools to help you quit at Facebook through Stop Smoking Successfully or at 310-543-1824.
Dr. Carol Francis, Psychologist and Hypnotherapist in the Los Angeles Area, has helped hundreds of thousands of individuals locally and internationally stop smoking with her book, support groups, videos, audio recordings, radio show programs, podcast at BlogTalkRadio.com/dr-carol-francis. You can sign up today for this very inexpensive but effective set of tools at http://www.facebook.com/StopSmokingSuccessfully/app_374126399298965 This is the least expensive way to access Dr. Carol Francis' KISS AWAY CIGARETTES Method. You will be shocked by how much value she is packing into this program which could help you STOP SMOKING today.
Dr. Carol Francis also helps individuals stop smoking who more easily will quit through person-to-person therapy, coaching and hypnotherapy either in her offices in Torrance, CA and Rancho Palos Verdes, Ca, or through Skype or Google Plus Video work. "Hypnosis and coaching are amazingly effective tools for individuals who may not even be motivated to stop smoking when they first come in to see me. These same tools work very fast with folks who are ready to quit but who are stuck on cravings or patterns that just do not easily go away."
Dr. Carol Francis' method of stop smoking addresses 8 major components or areas of life that cause people to remain addicted, dependent and attached to cigarettes and the drugs in those cancer-causing sticks. People with heart complications, pre-cancerous conditions, post-cancer or post-heart surgery consult with Dr. Carol Francis to break free from habits they have maintained for over 20, 30, or 40 years. Others, can not stand the way their hair, clothes and breath smells or how their skin is thin and teeth are yellow.
Dr. Carol Francis can be reached at 310-543-1824 or through drcarolfrancis.com.