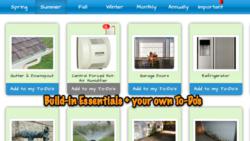 By combining recommended essential To-Do's with your specific items, Homecca creates a unique maintenance guide for your home.
Hillsborough, NJ (PRWEB) November 13, 2012
Two frustrated homeowners created Homecca.com to keep track of all the simple home maintenance tasks which can prevent costly and stressful home repairs. This user friendly website that launched on November 9th aims at becoming every homeowner's assistant. Homeowners are tired of not knowing how to take care of their own houses. Web resources, books, and friends are helpful but the results can be disappointing. There is a lot of information out there but it is confusing, incomplete, and sometimes contradictory. It takes a long time to sort through the information, and most of the information is about solving problems rather than being proactive to prevent them. "Crisis management is not the way to go with what is likely your largest single asset. Homecca tells you what to do, when to do it, and how to do it."
This release of the website contains a carefully chosen list of maintenance essentials. Homecca employs the 80/20 rule where 20% of maintenance tasks can prevent 80% of repairs in the home. For these 20%, Homecca provides an information page that explains what to do with helpful videos and pictures. Homecca has searched the web for the best content for you so that you don't have to worry about looking for the information. Once registered, new users will be started with the most essential of the home maintenance tasks that need to be done in their homes. The users can then add their own custom To-Do's, with item reminders that help with getting things done on time. By combining recommended essentials with user's specific To-Do's, Homecca creates a unique home maintenance guide. Users can either use a To-Do list or a calendar view where they can add their own own notes and comments, and their To-Do's can be marked completed, rescheduled, or even removed if no longer needed.
Keeping a history of expenses, repairs, and maintenance is a great selling point for future owners; it is also useful when documenting tax write off's.
For this reason Homecca maintains a history of all completed To-Do's, and lets the user upload receipts and other useful information like appliance manuals. "...and it's just the beginning, wait until you see the next release'', the founders say.
Homecca also features insightful blog articles on various timely subjects written by savvy professional contractors. Homecca encourages folks to comment on these articles and volunteer to share their own experiences. "Our initial articles give you hints on picking the right contractor, problem solving those repairs that never seem to go 'by the book', help with natural disasters like hurricane Sandy, and more."
It's worth mentioning that Homecca supports family multi-user accounts, so that all the family members can share the joy of owning a house.
The Homecca.com website is a combination of utilitarian simplicity with comprehensive coverage of the subject matter. It is easy to use and doesn't overwhelm.