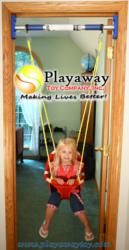 Bring the fun and all the benefits of the swing set indoors
Bear Creek, WI (PRWEB) November 06, 2012
Playaway Toy Company Inc., an American based manufacturer of indoor playground and physical therapy equipment for kids with disabilities, has long been known for its Rainy Day Indoor Playground ™, a compact unit that allows youngsters to do exercises like pull-ups and chin-ups in a compact indoor space all year long. The company now announces its new home fitness product, The Body Define™, which allows adults to perform the same exercises that children could perform on the Rainy Day Indoor Playground ™.
The Body Define™ is a type of home fitness equipment that is both fun and functional. The Body Define™ comes with several different attachments that are known as "power attachments" and they have been specifically designed to help adults tone their bodies and to also provide a fun means of indoor play for children on days with inclement weather.
"This is the most fun indoor recreational activity that your family will experience," claims Scott Pfefferle, President of Playaway Toy Company. The Chicago resident's interest in indoor recreation rose organically. Working a full-time job, the apartment-dweller realized that park safety was often elusive for his children, and he then developed an interest in indoor play equipment that would bring the fun and challenge of physical exertion to the safety of an indoor setting.
The Body Define™ is an essential addition to any fitness fan's home. It is designed to provide users with a full body workout that specifically tones and develops various muscle groups such as the biceps, abs, and deltoids. All of the accessories available for The Body Define™ can be integrated with Playaway Toy Company Inc.'s Rainy Day™ products, including baby swings and net swings. This compatibility is great for families who want to promote an active and healthy lifestyle, but who may not be able to take the children to the park every day.
At the heart of The Body Define™ system is the sturdy and durable support bar. Without the support bar, a user won't be able to equip the power attachments and will not be able to effectively use all of The Body Define's™ capabilities. In just a few seconds, the support bar can be installed to just about any doorway ranging from 29 to 36 inches wide, and its sturdy design can be used for basic chin-ups and pull-ups, even without the power attachments.
The support bar is capable of holding adults and children who weigh up to 300 pounds; every product manufactured by Playaway Toy Inc., including the support bar, is made of the highest quality materials available. All of the materials used in Playaway Toy Inc.'s products are 100% manufactured and produced in the United States.
When power attachments are equipped to the support bar, The Body Define™ can be used in over 30 different workouts that include popular exercises like push-ups, dips, and high face-pulls. For those who are interested in flexibility and developing tensile strength, The Body Define™ can also be used to perfect and master various yoga stretches.
Additionally, the support bar has the capability to hold multiple power attachments at once. This gives children and workout partners the ability to challenge each other while working out or playing. As more than one person can use The Body Define™ at any given time, this allows users to maximize the results of any invigorating home fitness workout as both you and your partner will be able to use different power attachments at the same time. This helps foster a competitive spirit between users and allows for more than one person to use The Body Define™, which is great for families who have more than one child as well.
The Body Define's™ support bar has been designed to fully support all of Playaway Toy Company Inc.'s Rainy Day™ products. Rainy Day™ products include accessories like baby swings, trapeze bars, and therapy equipment that help children and adults alike improve muscle tone, hand-eye coordination, and flexibility. All of these accessories can be attached to The Body Define's™ support bar to provide a healthier and more fun way to play and exercise indoors.
"Bring the fun and all the benefits of the swing set indoors," says Herbert Pfefferle, Sales Manager at Playaway Toy Company Inc. That's exactly what Playaway Toy Inc. does with The Body Define™.
This home fitness equipment provides an indoor playground for children, and also functions as exercise equipment for adults. Children of all ages will appreciate climbing and swinging on The Body Define™, while adults will appreciate the ability to target specific muscle groups that will result in well-defined and toned muscles.
For more information on The Body Define™ or any of the products Playaway Toy Inc. provides visit their website http://www.playawaytoy.com.
Boiler Plate:
Playaway Toy Company Inc. makes lives better, easier, safer, and more fun. It has been manufacturing indoor playgrounds, therapy equipment, and playground accessories for over 15 years. Based in Bear Creek, WI, Playaway Toy Company Inc. has the #1 selling product line in the exceptional needs industry and is committed to providing the highest quality products available to its customers. Playaway Toy Company Inc. has distribution centers in United States, the United Kingdom, Canada, and Australia.