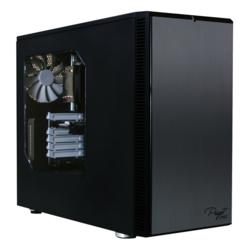 The Define R4 is an impressive chassis without compromises.
- Jon Bach, President of Puget Systems
Dallas, TX (PRWEB) November 16, 2012
Fractal Design, a leading manufacturer of computer cases, power supplies and cooling fans announced that boutique system builder Puget Systems has selected the Fractal Design Define R4 silent PC case as the foundation for their Obsidian workstation and Spirit desktop systems.
Fractal Design has earned a reputation for being "the company that listens" and many of the new features on the Define R4 are evidence that Fractal Design has listened to customer feedback. Available with either a Standard Side Panel or Window Side Panel in Black Pearl, Arctic White and Titanium Grey, the Define R4 retains the key award-winning features of its predecessor, the Define R3, while implementing a host of new features. New to the Define R4 are an integrated fan controller, wider stance for improved cable routing, Solid State Disk (SSD) drive mounts on the rear of the motherboard tray, fully removable HDD/SSD cages as well as support for up to two 240mm slim-line liquid-cooling radiators.
"The greatest feature of the Define R4 is its flexibility with regard to configuration," said Josh Smith, VP of Marketing for Fractal Design North America. "Puget Systems understands this. After incredibly thorough testing in their lab, they have chosen the Define R4 as the building block for not just one, but two separate systems, a true testament to the flexible nature of the Define R4."
"The Define R4 is an impressive chassis without compromises" said Jon Bach, president of Puget Systems. "It is an excellent combination of good aesthetics, flexible function, great cooling performance, and quiet operation. This is a chassis we are proud to offer."
Availability
The new Obsidian and Spirit platforms are available immediately for configuration on the Puget Systems online configuration tool. Product is in stock, and customers ordering online will have their new systems built and shipped within 5-7 business days.
About Fractal Design -
Fractal Design, based in Gothenburg, Sweden has become one of the leading manufacturers of PC cases, power supplies and cooling products. The company was founded in 2007 by a team of Swedish engineers who have carefully listened to the needs of customers. The company's PC cases have won multiple awards and are renowned for combining high quality workmanship with striking design features, superior performance and excellent value. For additional information please visit http://www.Fractal-Design.com.
About Puget Systems
Puget Systems is a specialized integrator of custom personal computing systems meticulously designed to exceed the discriminating requirements of consumers, enthusiasts, gamers and businesses in multiple industries. Puget Systems combines industry-unique custom innovations, the highest quality leading-edge components with an unparalleled commitment to personal service and support. Founded in 2000, Puget Systems is headquartered in its new facility in Auburn, Washington. For more information, please visit http://www.pugetsystems.com.