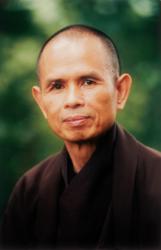 Fearlessness is not only possible, it is the ultimate joy.
San Francisco, CA (PRWEB) November 13, 2012
Even when surrounded by all of the conditions for happiness, joy can feel incomplete when fear keeps us focused on the past and worried about the future. While we all experience fear, it is possible to learn how to avoid having our lives shaped and driven by it.
In his new book, FEAR: Essential Wisdom for Getting Through the Storm (HarperOne; November 2012; Hardcover) Vietnamese Zen Master and nominee for the Nobel Peace Prize Thich Nhat Hanh lays out a path for living fearlessly. "Fearlessness is not only possible, it is the ultimate joy," he writes.
Thich Nhat Hanh offers powerful teachings, practical tools and transformational wisdom to overcome the 'unnecessary obstacles' that prevent us from finding happiness. From original fear—the transition from the safety of our mother's womb—to the toll that anxiety and uncertainty have on our lives, to learning to face our fears head on, FEAR reveals how facing our emotions allows us to cut off the roots of anxiety and fear and truly embrace the gifts of life.
With his trademark insight and clarity, Thich Nhat Hanh walks with us on a spiritual journey that is as simple and straightforward as it is profound and life-altering. Through personal stories, the wisdom of the Buddha, and mindfulness practices, he reveals a highly accessible path to release fear from our body and mind, to recognize joy and happiness in this very moment, and to become stronger, wiser and better able to love ourselves and others.
About the Author:
THICH NHAT HANH is a Vietnamese Buddhist monk whose lifelong efforts to generate peace and reconciliation moved Dr. Martin Luther King to nominate him for the Nobel Peace Prize in 1967. He is the author of many books, including the classic Peace Is Every Step and The Art of Power. He lives in France and travels the world leading retreats on mindfulness and mindful living. More about the author can be found at http://www.plumvillage.org.
FEAR
Essential Wisdom for Getting Through the Storm
By Thich Nhat Hanh
November 2012; $25.99 Hardcover; ISBN: 9780062004727
Also Available as an eBook and on Digital Audio