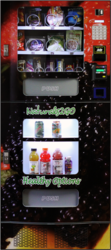 (PRWEB) November 10, 2012
Instead of relying on their 401K to secure their retirement, they decide to invest in a business that would secure their future and do something that could improve other people's lives. In the last couple of years, Dean and Micky have become more health conscience due to diet restrictions they encountered when their daughter was diagnosed lactose intolerant. They recognized that many other people also have diet restrictions due to Diabetes, Gluten free diets, obesity, etc.
In this fast paced world, we often turn to traditional vending machines that don't currently offer healthy choices in general let alone meet the requirements for diet restrictions. When we spoke to the Landis's they said, "We wanted to be a part of a movement to change this in our community, to be able to offer a healthier selection to fit everyone's needs."
Naturals2Go, a healthy vending company based in Idaho Falls, Idaho fit the bill. Typically, the words "healthy" and "vending" are never found together, but according to Naturals2Go, they are now a good fit.
Dean and Micky selected "The Naturals2Go" machines because of its healthy snacks & beverages in one machine. Also this machine has the ability to not only accept cash, but also credit/debit cards. It also houses a virtually silent cooling unit allowing appropriate selections to stay cool and fresh. Not to mention, the cellular technology that provides them with real time reporting so they can stay on top of low selections quickly and efficiently. This last feature really sold the Landis's because this would allow them to service their customers better, which is a win, win situation for everyone.
They plan to build their business as well as maintain their current jobs. Dean currently works as a Design Engineer and Micky works part-time as a Bid Specialist. They are also actively involved with their children and their children's activities, as well as actively involved in their church.
Dean and Micky will team up with local businesses in their area to provide healthy snacking options to both employees and customers. They will deliver the machine, stock it regularly, and keep it clean. So, it is a great way to keep employees and customers supplied with healthy snacks at no cost to you.
If you are interested in having a Naturals2Go healthy vending machine in your location, please contact the Landis's at LandisHealthyVending(at)aol(dot)com or call Micky at 513-465-0172.