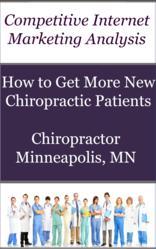 Minneapolis, MN (PRWEB) November 27, 2012
Get New Patients, INC is a medical internet marketing firm based in Minneapolis, MN and just released a new competitive market analysis to show how Chiropractors can attract new patients from the Internet with chiropractor Internet marketing.
James Dreesen, medical internet marketing expert and CEO of Get New Patients, INC, conducted this research on the Minneapolis Chiropractic market. The comprehensive analysis and report illustrates: the market potential for new Chiropractic patients, how patients are searching for chiropractic practices in Minneapolis, which competitors are getting more new patients through the Internet and their respective marketing strategy, and how the Chiropractic market will be dominated in the near future.
Get New Patients, INC is extending a free offer to Chiropractors to read this analysis and schedule a free 3-step consultation if they are in need of new patients. This free initial consultation will include a practice maximizer audit, a customized internet marketing plan, and a reports based on based on goals and budget. This report will reveal valuable information about the competition and the marketing strategies necessary to have the strongest presence online.
Chiropractors can schedule a free consultation with James Dreesen or online at GetNewPatientsINC.com. Get New Patients, INC. only partners with one client per set of local, major-metro, state, and national keywords on a first-come, first served basis.
About Get New Patients, INC.
James Dreesen, the CEO of Get New Patients, INC is also a best-selling author on Amazon for his book "Internet Marketing for Doctors." Get New Patients, INC has experience helping private chiropractic groups obtain new patients using medical SEO, blog marketing, and pay per click advertising. The statistics show that the bad economy has negatively impacted Chiropractic clinics, making competition more cut-throat and profits weaker. Partnering with the right marketing company is crucial for practices with declining patient numbers. Get New Patients, INC which is owned by NorthStar SEO, LLC can help Chiropractic groups find new patients by becoming more visible on the internet and capitalizing on social media, e-mail, and mobile marketing at an affordable price.
Contact Information:
Get New Patients, INC.
James Dreesen
Tel: (888) 221-0865
info(at)getnewpatientsinc(dot)com