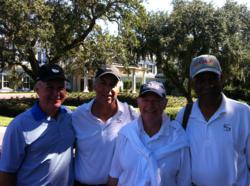 When legislators know what [podiatrists] do, patients have easier access to our care, and we can treat them. This really is a win-win event.
(PRWEB) November 05, 2012
Podiatrists save limbs and lives every day through their essential foot and ankle care. But when given the opportunity, many don't hesitate to tee off for a good cause.
Having just completed its 23rd year, the 2012 Annual Kaplan-Clarke Invitational recently took place at the Kiawah Island Golf Resort in Kiawah, SC. Organized by the American Podiatric Medical Association (APMA), the October 17-21 event invited podiatrists from across the country to hit the links, listen to guest speakers offer insight on practice management, and contribute to a fundraiser that has now raised more than half a million dollars to educate legislators about podiatry.
"Through the Kaplan-Clarke fundraiser, our members and their families are able to have fun while raising an incredible amount of money to support essential education efforts," said Joseph Caporusso, DPM, APMA president.
The four day tournament and practice management seminar is the principle fundraiser for APMA's Government Education Fund (APMA GEF). This year's event resulted in nearly $54,000 raised, and brings the tournament's overall fundraising amount to more than $500,000 since its inception. The APMA GEF supports APMA efforts to inform legislative leaders about important issues facing podiatric medicine through APMA's Annual Podiatric Legislative Conference and the organization's eAdvocacy website.
"Without the funds raised from Kaplan-Clarke every year, educating legislators about a podiatrist's essential roles in health care—such as what we do to prevent complications from diabetes, and life-changing surgeries that keep people walking—would be much more challenging," said Dr. Caporusso. "When legislators know what we do, patients have easier access to our care, and we can treat them. This really is a win-win event."
In addition to golf, the attendees gained valuable practice management insight from guest speakers Blake Zobell, DPM, Joseph "Jody" Hackel, MD, Sherman Nagler, DPM, and J. Mark Bruyn, DPM. The seminars were made possible in part by the event's diamond sponsors: Bako Podiatric Pathology Services, Dr. Comfort, and Metasurg.
For more information on APMA's Kaplan-Clarke Invitational Golf Tournament, visit http://www.apma.org/golf.
The American Podiatric Medical Association (APMA) is the nation's leading professional organization for today's podiatrists. Doctors of Podiatric Medicine (DPMs) are qualified by their education, training, and experience to diagnose and treat conditions affecting the foot, ankle, and structures of the leg. APMA has 53 state component locations across the United States and its territories, with a membership of more than 12,000 podiatrists. All practicing APMA members are licensed by the state in which they practice podiatric medicine. For more information, visit APMA.org.