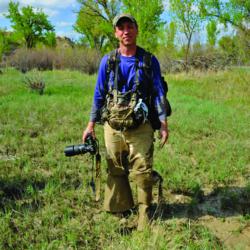 Seward, Neb. (PRWEB) November 12, 2012
Award-winning nature photographer and former NEBRASKAland magazine writer Michael Forsberg will speak at Concordia University, Nebraska, on Tuesday, Nov. 13, at 7 p.m. in the Weller Hall Auditorium. His presentation, titled "Pulse of the Plains," is open to the public.
A Nebraska native, Forsberg has spent his career photographing and writing about the wildlife and landscape of the Great Plains region. He says he hopes his images can build appreciation and inspire conservation efforts for the ecosystems in the area.
Forsberg earned a degree in geography and environmental studies from the University of Nebraska-Lincoln before beginning work for NEBRASKAland magazine. He has since started his own photography business and gallery. His photos and stories have won numerous awards, been printed in National Geographic magazine, been featured on postage stamps and postcards of Nebraska, and served as the subject of books, art exhibits and television documentaries.
In 2007, Mike was featured in the PBS documentary Crane Song, and was the 2009 recipient of the North American Nature Photographer's Association Mission Award. In 2012, the United States Postal Service re-released his tallgrass prairie photograph as a stamped post card. Mike is a charter member of the North American Nature Photographer's Association and a fellow with the International League of Conservation Photographers.
Currently, Forsberg is working on a "Great Plains" documentary in cooperation with NET Nebraska, set for release this fall, as well as a time-lapse photography project documenting the water flow of the Platte River Basin.
Concordia University, Nebraska, founded in 1894, is a fully accredited, coeducational university located in Seward, Neb. that currently serves over 2,200 students. Concordia offers more than 50 professional and liberal arts programs in an excellent academic and Christ-centered community that equips men and women for lives of learning, service and leadership in the church and world. For more information, visit cune.edu.