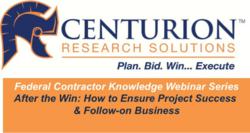 "In times of budget constraints, successful contractors hold onto and grow business with their existing government clients."
- Gary Loyd, Centurion CEO
Chantilly, Virginia (PRWEB) November 02, 2012
For Centurion Research Solutions government contractor clients, this highly competitive environment means project performance and follow-on business with existing government agency clients are more important than ever. During this free federal contractor knowledge webinar, Mike Lisagor, Centurion's business development subject matter expert, will explore the most critical steps managers need to take to ensure the successful execution of government contracts and the acquisition of follow-on business.
The November 13 webinar contents will be based on his many years as a capture and program manager, a project risk assessment consultant for the General Services Administration, and author of several contractor program management handbooks and associated training material. Mr. Lisagor will share numerous real-life examples and lessons-learned that are not covered in more traditional project management or business development training.
[Feedback from last webinar]: "Great webinar. You delivered your comments so well that I was convinced that you had well rehearsed them in advance. Your webinar demonstrated the Centurion brand of customer support that I appreciate immensely." - Matt Stromberg, Viper Technology Services
[Registration Information (seats fill up quickly).
About Centurion
Centurion Research Solutions, founded in 2003, is a business intelligence and analytics company with a simple mission: offer innovative solutions that help federal contractors efficiently win more government business. To achieve this mission, Centurion has been providing online, subscription-based services, custom research and analysis, tools and methodologies, professional services and in-depth training. Industry leaders such as Alion, Northrop Grumman, SAIC, Lockheed Martin, BAE Systems, InDyne, CACI and Raytheon rely on Centurion's solutions, thought-leadership and expertise to help them identify and analyze relevant opportunities to win more government contracts.