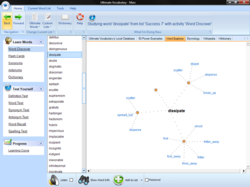 The high score is based on the software's large array of tools, the subjects covered in the instruction modules, and its excellent user-friendly features and accessibility.
New York City, NY (PRWEB) November 02, 2012
Today, Ultimate Vocabulary announced that the software received a favorable review from a top-notch review site, TopTenReviews. Ultimate Vocabulary scored highest among at least ten other vocabulary improvement software systems rated, with a score of 9.9/10.
The review by this respected website looked thoroughly into four different aspects of the system: instruction quality, help and support, subjects covered, and teaching tools provided. The individual and overall scores for Ultimate Vocabulary were consistently higher than those received by any other software, making Ultimate Vocabulary the best vocabulary software available at the moment.
Marc Slater, director of Ultimate Vocabulary, commented on the news, saying, "We are very pleased to hear that review sites get to acknowledge and appreciate how distinctively effective Ultimate Vocabulary really is. The verdict score of 9.9 tells us two things. First, our goal to produce a top notch software has been achieved. Second, this missing 0.1 shows us that there's always room for improvement. This review is both a reward for our past hard work and an encouragement to sustain our excellence."
One of the most highly praised characteristics of Ultimate Vocabulary was its matchless word database. Ultimate Vocabulary's baseline word resource contains over 140,000 words, a significant advantage over the second place software's 20,000 words.
Apart from its comprehensive, dictionary-like database, Ultimate Vocabulary was also praised for the variety of activities and teaching aids that work together to provide the optimal user experience. As the reviewer concludes, "it is because of the thoroughness and flexibility of this application that we find Ultimate Vocabulary to be the best vocabulary software available."
Ultimate Vocabulary did not get this review by chance, as the reviewer points out. The high score is based on the software's large array of tools, the subjects covered in the instruction modules, and its excellent user-friendly features and accessibility. People need vocabulary software that is engaging, efficient, and adaptable to different needs and levels – and that, as the review indicates, is exactly what Ultimate Vocabulary provides.
Marc Slater appeared to be very satisfied with this review. "I would like to congratulate all of the hard-working, devoted staff responsible for Ultimate Vocabulary and its position at the top of the field. It's thanks to their devotion and passion that we got this review. I hope they will continue with equal enthusiasm in working towards further improving and refining Ultimate Vocabulary for users in the years to come."
For more information on this review and how you can benefit from purchasing Ultimate Vocabulary, please visit its official website, http://www.ultimatevocabulary.com.
**********
About Ultimate Vocabulary™
Ultimate Vocabulary provides a proven and powerful platform, built to improve anyone's vocabulary.
The interactive self-improvement system provides more learning tools than any other program on the market, as well as more information on words.
The Ultimate Vocabulary software provides each and every user with a personal computer tutor. Providing a step-by-step guide to learning a powerful vocabulary, Ultimate Vocabulary is the learning tool everyone can benefit from.
Of course, the software is also backed by eReflect's iron-clad money back guarantee.