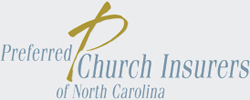 Winston Salem, NC (PRWEB) November 02, 2012
Preferred Church Insurers of North Carolina, a leading provider of insurance coverage for churches, schools and non-profit organizations across the state, recently offered key guidelines for churches for the use of social media in ministry. If employed correctly, churches can use the various social media platforms, Twitter, Facebook, YouTube, FourSquare, blogs and text alerts to communicate with members, provide key information about church events and as a powerful form of evangelism.
"Not only is social media the fastest growing form of communication in the United States, it is also quickly becoming a useful tool for all generations," said Keith Googe, Certified Insurance Counselor and Founder of Preferred Church Insurers of North Carolina. "As churches begin to embrace social media, they are finding that it is a practical way to communicate with not only members, but also the communities in which they serve."
Preferred Church Insurers of North Carolina recommends that churches first develop a plan by deciding what they want to accomplish through social media and developing a strategy around those goals. Churches should also define their target audience and then identify which platforms they want to use. Most importantly, churches should formulate a process and policies for creating content for the sites, identifying which staff members have permission to create posts and how much time will be allocated to social media.
In addition to best practice for launching a social media campaign, Preferred Church Insurers of North Carolina has also identified key guidelines for the use of social media in ministry. The company recommends that all administrators should be adults. Churches should also get permission from all individuals in photos or video before posting them, get the permission of parents before communicating with a minor via social media (including permission to use photos and video).
It is also recommended to keep copies of any communications between a church staff member and a minor, including text messages, Facebook messages or wall conversations if possible. These guidelines not only help safeguard those working in youth ministry, but by having a policy in place, everyone involved in the church's social media will be on the same page and aware of expectations. For complete information about effectively using social media in your ministry, call 1-888-496-7262.
About the company:
Preferred Church Insurers was founded in 1996 to meet the needs of churches, non-profit organizations, and private and parochial schools across North Carolina. The company specializes in church, liability, property, casualty, employment insurances and employee benefits. Preferred Church Insurers maintains long-term relationships with their clients and continually evaluates insurance customer's needs to ensure that their customers remain adequately protected as each customer's businesses and insurance needs evolve. They help customers determine what type and amount of church insurance coverage is needed - whether that customer is responsible for a 200 student private school or a church of 10,000 members. For more information, please visit their website at http://www.ncchurchinsurers.com/.