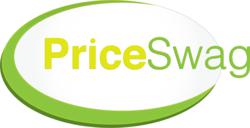 PriceSwag.com, a star in the deep discount universe!
Alpharetta, Georgia (PRWEB) November 08, 2012
PriceSwag, LLC (dba: PriceSwag), based in Alpharetta, Georgia, is an innovative online retailer committed to offering its valued customers deep discounts (20-80%) on 1000s of new and used popular, brand-name products.
PriceSwag's commitment to operational excellence is supported by in-house expertise in logistics management, information technology, and process innovation. The company's focus on lean operations guarantees the greatest possible efficiency and savings for its customers.
PriceSwag's national account managers work to procure quality merchandise from a variety of sources including, but not limited to, insurance companies, freight companies, and bankruptcies.
Unlike traditional retail outlets, customers benefit from a dynamic mix of products from leading manufacturers. Additionally, customers benefit from PriceSwag's mature relationships with companies across North America including notable Fortune organizations.
PriceSwag is active on various social media channels including Facebook and Twitter. Customers are encouraged to join these social networks and are often rewarded with the latest news, special promotions, discount codes, and contests.