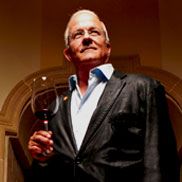 "Use business entertaining as a powerful client development strategy," Eddie Osterland, MS.
La Jolla, CA (PRWEB) November 02, 2012
Power Entertaining: Secrets to Building Lasting Relationships, Hosting Unforgettable Events, and Closing Big Deals from America's 1st Master Sommelier is now available in bookstores and online at: http://www.amazon.com/dp/1118269020
Eddie Osterland shares all he's learned about entertaining with wine and food as the result of a remarkable 30-year career in the food and hospitality industries. His book outlines dozens of power entertaining tips to help mold anyone who utilizes business entertaining to close deals.
Osterland says "power entertaining" isn't about "boozing and schmoozing clients." Instead, it's about "being able to entertain others in ways they will never forget, and that will make them want to do business with you again and again!".
Whether at a corporate business event or a private dinner with clients, Power Entertaining advises readers on how to:

Entertain clients with ease, class, and confidence, using good wine and food as the ingredients to build strong and lasting business relationships.
Delight colleagues and friends by serving delicious pairings of wine and food that they'll remember for years.
Transform boring business meetings and sales functions into memorable social events that people will want to attend again and again.
Use business entertaining as a business development and client relations strategy.
But that's not all. Readers of Power Entertaining will also learn how to:

Order with knowledge and confidence from restaurant wine lists.
Select, taste and appreciate fine wines just as master wine tasters do!
Close big business deals by ordering just the right wine for business occasions.
Learn the basics of casual (but classy) home entertaining.
Learn about fun and fabulous foodie websites.
Entertain – at work or at home – without getting stressed out!
Power Entertaining is a must read for any professional who entertains others as part of doing their job. It is also an invaluable guide and roadmap for anyone who wants to bring new energy, creativity and excitement to entertaining friends and family at home!
HELPFUL LINKS
Preview of Power Entertaining: http://tinyurl.com/bjduqbv
Contact Eddie Directly: http://tinyurl.com/bgjcclz
Order Online: http://tinyurl.com/ax2rnd2
EDDIE OSTERLAND'S BACKGROUND
America's first Master Sommelier, is an internationally acclaimed expert in the culinary arena of food and wine. Eddie holds the prestigious degree of Diplôme Universitaire d'Aptitude à la Dégustation (DUAD) from the Université de Bordeaux in Bordeaux, France. While completing his studies there, he passed the grueling Master Sommelier Diploma in London in 1973 and later became head sommelier at the Hôtel de la Poste in Beaune, Burgundy, France--an American running a French wine cellar! For more than twenty-five years, he has delivered workshops on his concept of Power Entertaining to such global companies as Accenture, General Mills, Citigroup, IBM, Merrill Lynch, GE, Ford, UBS, Discover Card, Sprint, Procter & Gamble, Oracle, Sub-Zero, and American Express.
For more information about the book please visit: EddieOsterland.com