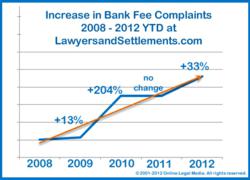 Santa Cruz, CA (PRWEB) November 01, 2012
In 2010, the Federal Reserve System put in place new overdraft rules for debit and ATM cards. The new bank overdraft fee rules aimed to curb the practice of some banks that had automatically charged an overdraft fee when a purchase was made for which there were not enough funds to cover the purchase.
With the new bank overdraft fee rules, account holders had to "opt in" for overdraft protection; if they did not, and a purchase was made for which there were not adequate funds, the purchase would simply be declined and the bank would not collect a fee.
The new rules, however, do not appear to have curbed consumer complaints regarding bank overdraft fees according to data just released from LawyersandSettlements.com. In fact, overdraft fee complaints submitted to the website have risen 33 percent from January through September 2012 when compared to a year ago.
This increase is on top of an initial 204% spike in bank overdraft fee complaints to the website in 2010--when the new Federal Reserve regulations for bank overdraft fees were being implemented.
It's not just overdraft fee complaints though that consumers are concerned about; complaints submitted to LawyersandSettlements.com regarding bank fees in general have risen 71 percent in the first nine months of this year, when compared with the same period in 2011. That includes fees such as late payment fees, student loan fees, and minimum balance fees.
Advocates of the banking industry defend such fees as a reasonable and necessary cost of doing business. And the American Bankers Association recently reported survey results that showed 59 percent of bank customers avoid paying bank fees entirely.
However, consumer watchdogs pointed out in a recent edition of USA TODAY (10/17/12) that given the various ways in which the average consumer can access their accounts—via debit cards, ATM kiosks or online banking—it's easier for increasingly busy and distracted consumers to lose sight of their balances.
Overdraft fees are trending upwards, according to Bankrate.com, with the average fee at $31.26 in 2012 vs. $30.83 a year ago. And while consumers have the power to opt out of overdraft protection for debit card use, the same cannot be said when a check is written with insufficient funds.
A national study undertaken by the not-for-profit Pew Charitable Trusts looked at the 12 largest banks in the US and calculated worst-case scenarios. In Michigan, for example, it is possible to incur up to four overdraft charges per day. Looking at a median fee of $35 that works out to $140 per day.
Assuming the consumer does nothing to address the issue, the maximum of $140 can be charged each day for up to five days, in addition to the incurrence of a $15 extended overdraft penalty fee. That's $715 in one week. In Alabama, the worst-case scenario can amount to $1,503. In Maine, it's $1,770.
Various bank overdraft fee lawsuits have alleged banks are reordering debit card transactions to maximize revenue from such fees. Defendant JP Morgan Chase agreed to a $110 million settlement in a national class action lawsuit alleging manipulation of bank overdraft fees, and Bank of America settled its portion of the same bank overdraft fee lawsuit for $410 million (In re: Checking Account Overdraft Litigation, Case No. 1:09-MD-02036-JLK, US District Court, Southern District of Florida,).
Consumer advocates note that attention to detail is key to avoiding overdraft fees, or recognizing inflated fees. At the same time, however, they note it was much easier in an earlier time, when writing a check or physically going to the bank branch represented the only access an individual had to their accounts.
LawyersandSettlements.com provides comprehensive legal news and critical information for those affected by once-in-a-lifetime situations involving medical device lawsuits, personal injury, defective products, California Overtime and labor issues or a host of others. Readers seeking legal help can request it by completing a form which is distributed to attorneys specializing in these cases. Trial attorneys utilize the site to keep abreast of hot legal issues and settlements as well as connect with potential clients. Web: http://www.LawyersandSettlements.com.
About Online Legal Media
Online Legal Media owns and operates websites providing information for the general public and the legal community. LawyersandSettlements.com, founded in 2001, is an online legal news publication with over 2.1 million visitors annually and hundreds of thousands of requests for attorney help from its readership. OnlineLegalMarketing.com serves as a portal for trial attorneys to network and to market their firms to other attorneys and legal professionals. HealthEffectsOfAsbestos.com offers up-to-date resources and news for those suffering from asbestos exposure and mesothelioma. Online Legal Media is based in Santa Cruz, California.
Follow Online Legal Media on Twitter @OnlineLegalNews and on Facebook at http://www.facebook.com/pages/LawyersAndSettlementscom/74380229132.
All trademarks are the property of their respective owners.