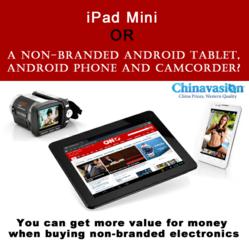 The iPad mini, for example costs $329 - The China equivalent is usually around $100.
Shenzhen, Guangdong (PRWEB) November 01, 2012
Online Shoppers are still saving wads of cash by buying cell phones, tablets and other electronics gadgets from China according to China Wholesale company Chinavasion.
Global smartphone and tablet use has skyrocketed over the past two years as device prices have become more affordable. However, Rose Li, PR Manager for China wholesale company Chinavasion says tech savings on electronic gadgets from best buy or target are only the tip of the iceberg.
Li says that smart shoppers can buy phones and tablets that have twice the capabilities as a brand name device for 20-60% less than what they would pay at a physical store.
"The iPad mini, for example costs $329 [US dollars]," says Rose Li. "The China equivalent is usually around $100, and for over $300 you'd get a lot more in the package."
Customers wouldn't even need to forgo a favorable service or return policy according to Li with many China electronics and global electronics stores offering live chat support and comprehensive return and repair policies.
Li says premiums placed on local markets and brand names for the higher cost of electronics gadgets in local markets.
"Brands normally stick a premium on readily available technology and local stores tend to charge what the remainder of the market charges, even though it is much higher than global market rates," says Li.
However, consumers are starting to wake up according to research company, Forrester Research, and Li says it will only be a matter of time before everybody shops online. Forrester Research revealed recently that US consumers would spend $327 billion online by 2016, accounting for 9% of all retail spending.
Shoppers could be spending hundreds too much on underspecced electronics gadgets according to Chinavasion's Rose Li: "Shoppers are not stupid and the times are too tough right now to throw money away on overpriced brands."
Chinavasion is the premier wholesale dropship supplier of Western quality electronics gadgets at China prices. Whether you're interested in wholesale mobile phones, surveillance cameras and equipment or car DVD players Chinavasion has something for you. To learn more about how to benefit from cheaper prices on all your tech wishlist, watch Chinavasion's introduction video about Electronics Gadgets