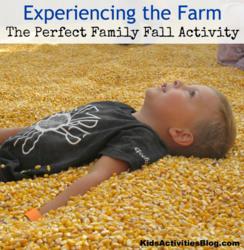 Visiting the local farm or orchard is the perfect fall family activitiy!
Dallas, TX (PRWEB) November 04, 2012
Fall Season is the perfect time to visit the farm according to Moms and caregivers blogging on Kids Activities Blog. Check out the local area for orchards and farms to schedule a memorable family outing.
The best fall activities on a farm are the corn mazes, corn baths, hay stack slides, the actual harvesting of fruits, such as picking apples, and turing the harvested fruit into a delicous snack.
If there are no farms close by, check out these great alternative ideas for visiting a farm. Making a sensory tub with corn kernels from the store and mixing it with plastic farm animals and a scoop for the preschooler to experience fall. Or making an obstacle course in the backyard and pretending that these are hay stacks.
If there is no apple orchard in the local area, check out the local farmers market for the latest fall fruits and vegetables. Making something at home such as baking a delicious pie is a hot idea for everyones family change of season activity.
Other fun fall activities according to Moms blogging on Kids Activities Blog are going outside on a change of season scavenger hunt. Discover the changing colors of leafs, pick up some acorns or other items to collect for a change of seasons sensory tub.
One of the most inexpensive but memorable change of season activitiy is simply by going on a nature walk with the family. Let everyone experience the fun fall season and to experience first hand the full beauty of what mother nature has to offer in the fall. The kids will simply love this easy and fun family fall activities idea.
About Kids Activities Blog
Kids Activities Blog is a website created by two moms (who collectively have 9 children), Rachel Miller and Holly Homer from June Cleaver Nirvana. It is their daily goal to inspire parents and teachers to play with kids. This interactive website publishes simple things to do with kids twice a day. Kids Activities Blog is a great tool for moms and teachers to find kid-friendly activities that create memories and sneak learning into the fun.