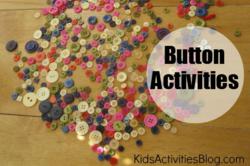 Button activities and matching games make fun travel games.
Dallas, Texas (PRWEB) November 11, 2012
Button activities and color matching games make easy fun educational learning opportunities for preschoolers. Using regular household items and turning them into games for preschoolers by sneaking in some learning is what it is all about for Moms on Kids Activities Blog.
Making button activities for preschoolers is easy. Simply provide a bucket full of colorful buttons and let the child explore the different shapes and sizes. Games can be played by matching colors, shapes, lining up patterns, or by playing the I Spy Game.
The box can also turn into a great travel game for playing in the restaurant, in the waiting room at the dentist, at the beach or for playing in the hotel room. Check out Kids Activities Blog for the many color matching games that can be played with this simple box filled with buttons.
Other matching game ideas can be played by making a set of alphabet cards. Let the child find objects in the house that match the letter card. Line up the objects with the letter card and be amazed at the many objects the preschooler is able to find. This pre-reading activity can also be played by searching for the ending letter of the word.
Kids Activities Blog is featuring a number of button play ideas, matching games and other fun and educational preschooler projects that have Moms and caregivers respond in numbers this fall. Come check it out.
About Kids Activities Blog
Kids Activities Blog is a website created by two moms (who collectively have 9 children), Rachel Miller and Holly Homer from June Cleaver Nirvana. It is their daily goal to inspire parents and teachers to play with kids. This interactive website publishes simple things to do with kids twice a day. Kids Activities Blog is a great tool for moms and teachers to find kid-friendly activities that create memories and sneak learning into the fun.