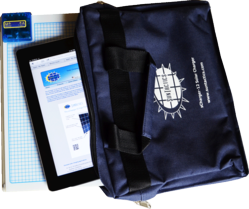 The sCharger-12 can provide up to 14 watts (2.8Amps,5Volts) of power right from sun
San Jose, CA (PRWEB) November 14, 2012
"Customers have asked Suntactics to include a custom case for their sCharger-12 and Suntactics has responded" said Dean Sala, Suntactics Founder and CEO.
"The new case was specifically designed for customers who want to carry all their technology needs with them. It can hold the powerful dual USB port Suntactics sCharger-12 and has a separate pocket that can hold an iPad, Samsung Tablet, and many other Tablets. It even has room for additional an iPhone, iPad, Android Phone, Samsung Galaxy, eReader and many other USB devices as well as accessories like connecting cables."
The case, constructed of high-quality durable material, has both a zipper for the sCharger-12 top-load section and a zipped pocket for all the devices and accessories. Both carry handles provide for convent transportation.
The sCharger-12 is a high-end solar charger that quickly charges larger USB tablet devices such as the 2.1 Amp compatible iPad. It is also compatible with other leading USB tablets and portable devices and provides both instant usage and charging for multiple devices at once including tablets, phones or any other USB device. The sCharger-12 is durable, reliable and hassle-free. A truly environmentally responsible product made in the USA and designed for long-term value.
Customers agree:
" Absolutely nothing can match it. The s12 is certainly light enough that I carry it on a rack mounted on my back wheel of my bicycle. Charges 2 USB devices just as well as a wall outlet on sunny days, and still charges considerably well on some of the gloomiest of days. This is a no nonsense charger and well worth every dollar especially in any emergency situation where power of any other kind is unavailable".
" The Suntactics changers (I own both the 5 and 12 models) are covered in a very durable coating similar to what the military uses on their circuit cards to weatherproof them. The cells they use are very high quality. It's very lightweight, great for ultralight backpackers or military. Cost is reasonable, you pay just a little more for a lot more quality and performance".
About Suntactics
Suntactics focuses on portable solar and off grid solar energy products. Their current products are a unique 5-watt handheld solar charger called the sCharger-5 for solar charging smartphones like the iPhone and powerful duel port 14-watt solar charger called the sCharger-12 for solar charging multiple remote devices including tablets like the iPad. These compact high power and durable solar power chargers meet the needs for a wide range of portable devices. The units are manufactured in the USA at Fastrak, a veteran owned contract manufacturer. Suntactics is headquartered in San Jose, CA.