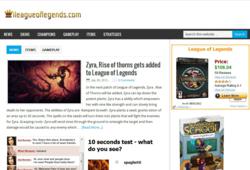 iLeagueofLegends.com is a new online resource for players of the League of Legends game title.
Phoenix, AZ (PRWEB) November 08, 2012
Over the last three decades, computer and video gaming has evolved – with gamers' interests showing no signs of waning. Latest statistics indicate that 67% of households in the United States play video games, with gamers glued to their monitors for an average of 18 hours per week.
With computer and video gamers coming from all ages and backgrounds, the industry has reaped a whopping $105 billion in revenue as of 2009, with 273 million computer and video game units sold.
The unwavering demand for online, computer games has compelled developers to create one title after another. Games that depict battles and involve role playing are setting the trend. One such game, League of Legends – also called LoL -- is a multiplayer battle arena game that Riot Games developed and published for Microsoft Windows.
iLeagueofLegends.com is a new online resource for players of the League of Legends game title. Created with LoL gamers in mind, the website offers a wealth of data and news regarding the high-intensity multiplayer online game.
iLeagueofLegends.com particularly offers information about the game's diverse characters, along with gameplay tips and strategies. League of Legends players who want to improve their game can also turn to iLeagueofLegends.com for useful tips.
The website features various aspects of the gameplay, including Map Awareness, Last Hitting and Role Definition, which are all crucial to the improvement in gameplay.
Importantly, the website serves as must-visit resource for up-to-the-minute updates about server issues, fixes, upcoming changes in graphical modifications, new maps and metagame changes.
In addition, League of Legends fans are first to know about the introduction of visual modifications, as well as new trailers that feature highly sophisticated and designed battlefields.
iLegueofLegends.com also provides an in-depth discussion about the $5 million prize pool for the League of Legends tournament winners – the largest prize pool in eSports history.
To know more and find the latest about League of Legends, please visit http://www.ileagueoflegends.com for details.
ABOUT
iLeagueofLegends.com is offers in-depth information about the video game League of Legends. From LoL developer news to gameplay tips, the new website covers it all.