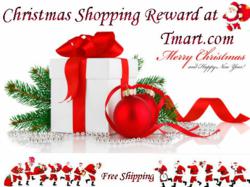 Our goal is to provide our customers with the most innovative and efficient way to search and purchase the highest-quality Christmas products in a cost-effective way and worldwide free shipping
(PRWEB) November 12, 2012
To thank the deep love of customers, a Christmas shopping reward activity is to launch at Tmart.com! This Christmas every customer can buy so many products with the least money.
This Christmas shopping reward activity starts from November 16, 2012 to December 26, 2012. During the activity period, if accumulated amount of customer's orders reaches top ten, the customer will be given free Christmas gifts from Tmart.com.
Tmart has prepared amazing and attractive awards for 10 lucky winners in total. This shopping reward activity will produce a first prize winner, three second prize winners and six third prize winners. The first prize is for the top 1 winner, the second prizes are for winners who rank 2 to 4, and the third prizes are for winners who rank 5 to 10. All the awards that Tmart offers are up-to-date and practical. The awards for this activity are listed as follow: The award for the first prize is a tablet PC. The award for the second prize is a car lights kit. The award for the third prize is an RC Helicopter.
The list of winners will be announced on Dec. 31, 2012. Tmart's customer service staff will contact winners to confirm the delivery of awards via emails within 3 working days. Please post comments and upload photos after anyone receives gifts.
About Tmart.com
Tmart.com is a reliable online seller who serves customers heart and soul. This Christmas Tmart will provide each customer with a wide range of Christmas gifts, Christmas costumes, Christmas decorative items and so on. All the customers can obtain best-quality products, professional service and competitive price. Every customer who purchases at Tmart can also enjoy worldwide free shipping! Tmart is a trustworthy companion!
Contact:
Nick
Tmart.com
718-618-4888, service(at)tmart(dot)com