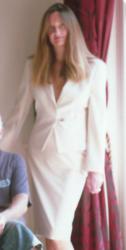 England (PRWEB) November 01, 2012
British society seems rotten to the core, with money seen as the universal answer. So Carolyn, who has never married and has no children, has made this decision. Because although most men think they only need money to make them attractive, she knows there are still some good men around.
She has been a registered pharmacist and also a contemporary and hosiery model. And this summer has worked with one of the best stills photographers in the world today, Geoff Woods, film director, who makes photographs almost entirely on film.
In order to enter the competition entrants should consider what they have to offer, whether Carolyn would find this attractive, and decide how to make their suit.
The photographs shown of her here are recent, and not digitally enhanced, taken in July 2012, as are all the pictures on her modeling website http://www.carolynbrennan.com.
Carolyn is looking for real contenders.
Google+ only