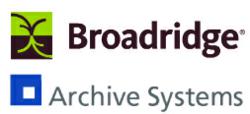 With our unique approach to records management and Broadridge's extensive experience in investor communications, we believe we will change the way the financial services industry manages documents
Lake Success, NY and Fairfield, NJ (PRWEB) November 08, 2012
Broadridge Financial Solutions, Inc. (NYSE:BR) and Archive Systems, Inc. today announced a strategic alliance to create a complete records management solution that offers greater control, retrieval, and analysis of all records for banks, broker- dealers, and mutual fund organizations. This alliance complements and enhances PostEdge®, Broadridge's electronic document delivery and archival solution for the financial services industry.
Through this alliance, Broadridge expands its secure client communications and regulatory information archiving solutions for a broad range of broker communications including account statements, confirmations, tax and account documents, and prospectuses. Together, Broadridge and Archive Systems deliver one integrated solution for secure management, storage, and governance of physical paper documents and electronic records.
The expanded offering is supported by Archive Systems' Records Management software suite, OmniRIM™ Records Center, ASPEN Virtual File Room, and Business Records storage capabilities. Archive Systems delivers integrated software and services that enable organizations to build exceptional information governance while they begin a path to paperless.
"The investor communications community has been under-served when it comes to their records management options," said Archive Systems' CEO, Gordon Rapkin. "With our unique approach to records management and Broadridge's extensive experience in investor communications, we believe we will change the way the financial services industry manages documents."
"Increased regulatory compliance demands are driving the need for an efficient end-to-end physical and digital document management solution that provides intelligent storage capabilities. We anticipate that our alliance will reduce the risk of lost documents and improve retrieval efficiency," said Andrew Besheer, Vice President, Customer Communications, Broadridge.
About Broadridge
Broadridge is a technology services company focused on global capital markets. Broadridge is the market leader enabling secure and accurate processing of information for communications and securities transactions among issuers, investors and financial intermediaries. Broadridge builds the infrastructure that underpins proxy services for over 90% of public companies and mutual funds in North America; processes more than $4.5 trillion in fixed income and equity trades per day; and saves companies billions annually through its technology solutions. For more information about Broadridge, please visit http://www.broadridge.com.
About Archive Systems, Inc.
Archive Systems offers a full range of services and solutions for organizations to manage physical and digital records from a single source. For documents stored both on-site and off-site, the company enables complete lifecycle management while addressing regulatory compliance, information governance and access to information for legal discovery. Through this innovative approach, Archive Systems is changing the way the world manages documents. For more information, please visit http://www.archivesystems.com.