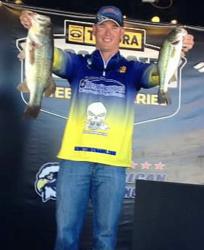 John finished overall in 2nd place with over $4,000 in cash and prizes.
Street, MD (PRWEB) November 01, 2012
Harford County Pro Bass Angler, John Hansen III known as J3, competed in the BASSMaster Weekend Series Regional Tournament on Smith Mountain Lake in Virginia. He dominated the 1st day bringing in the largest bag at 12.46 lbs fishing docks with a Deadfish Company jig and a Bizz Baits Crafty Craw trailer. Day 2, he repeated the techniques that brought him success the day before. His Day 2 weight was 9.91 lbs for a total weight of 22.37 lbs. He finished overall in 2nd place with over $4,000 in cash and prizes. John has been competing in tournament fishing for four years now searching for his chance to fish the Bassmaster Classic! In his words, the Super Bowl of fishing.
Only fifty anglers earn a spot to compete in this event that you must qualify for. Anglers from all over the world try to get to the classic but few actually ever get there. I asked J3 why is this so important to you. He told me that he can remember "sitting on his dad's lap as a kid watching the BASSMasters and always dreamed of being a pro. Plus the $500,000 dollar purse is always something to look forward to." he added while laughing.
His high placement in this regional tournament has qualified John to compete in the BASSMaster Weekend Series Championship Tournament. The Championship will be held November 7th-10th on Sam Rayburn Lake in Texas. The winner of the Championship will earn $100,000.00 and qualify for the BASSMaster Classic. To find out more about how John is doing, check him out at http://www.hansenfishing.com. He is also on facebook and twitter.
John wants to thank his family, friends, The Bass University and especially Pete Gluzek for teaching him and training him to compete at a level he never dreamed possible. He also wants to thank his sponsors Amsoil, Healthbridge Chiropractic, The Deadfish Company, Mobile Auto Service, RMC Boatworks and Napa Auto Parts.